Community Cast Panel Jokes and Quotes From the 2011 Winter TCA
Community Cracks Up the TCA: 10 Quotes That Will Make You Laugh
Though it's definitely fascinating to find out about all the new shows that midseason TV has to offer, the Winter TCA rewarded the audience with a panel for returning favorite Community. Cast members Joel McHale, Alison Brie, Gillian Jacobs, Donald Glover, Danny Pudi, Ken Jeong, and Yvette Nicole Brown sat down with series creator Dan Harmon to talk about the show, but really, they just made everyone — including themselves — laugh. Here are the funniest quotes from the panel!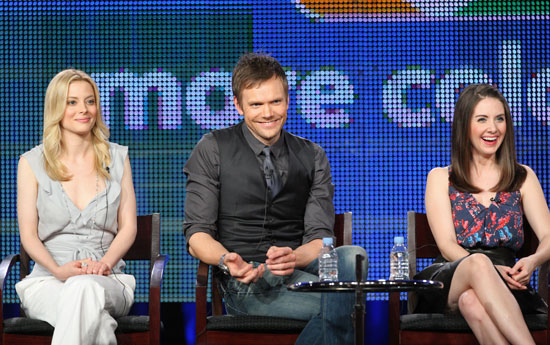 "I like fart jokes." — Glover, on being the class clown of the group.
"She hates fart jokes." — Glover on Jacobs, the intellectual of the group.
"Ken can get a good giggle going just with himself." — Brown, on Jeong.
"I was already, like, really crushing on the show, and when I found out we were doing that, it took our relationship to a whole other level." — Brie, on finding out they were going to do the holiday-themed claymation episode.
"Everyone kept asking me why Bill Hader was playing Jeff." — McHale, on the look of his claymation character.

To read the other five quotes, just

.

"Every time I read one of Dan's scripts, other than the spelling errors, it's just incredible." — McHale, on Harmon's talent.
"We're not doing very well." — Jacobs, explaining the group's four-year plan in community college.
"That was me and my boy, dude." Pudi, on the zombie episode when Troy tells Abed he loves him.
"A lot of crying and screaming at Dan, 'I thought this was going to be like 24'!" — McHale, on how he dealt with Community's shift to focus in the ensemble rather than just Jeff.
"She was already old!" — Glover on why Betty White wasn't familiar with the song "Africa" when it originally came out in the '80s.