Community at PaleyFest 2013
Community Previews an Upcoming Puppet Episode at PaleyFest
Greendale Community College was back in session last night as the stars of Community took over PaleyFest at the Saban Theatre in Beverly Hills. Yvette Nicole Brown, Gillian Jacobs, and Alison Brie joined Danny Pudi, Joel McHale, and other castmates for a walk down the red carpet followed by a panel discussion. They kicked things off with a hilarious table read, which involved a bit of physical acting when Joel and Jim Rash decided to take their tango scene to the stage. The cast also revealed a few new guest stars this season, including James Brolin, who will play Jeff's dad, and Malcolm McDowell, who plays a professor. The stars also announced that their characters will be immortalized as puppets in an upcoming episode airing later this season, which fans got a preview of last night. Check out all of the highlights: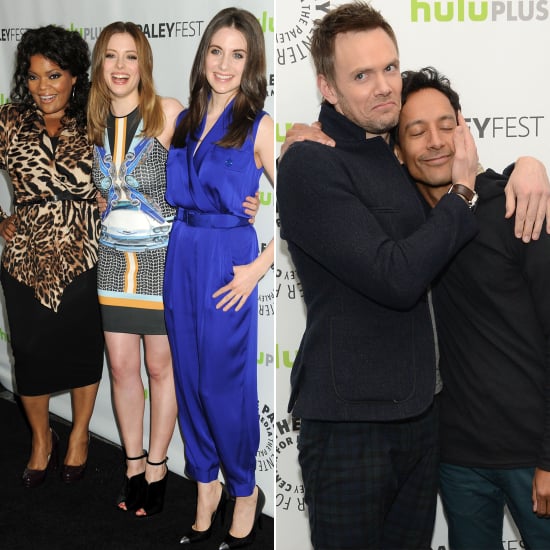 Joel McHale and Jim Rash got up from the table read to bring their tango scene to life. The actors managed to balance their scripts, and each other, as they pulled off impressively awkward lifts with a whole lot of face caressing.
Malcolm McDowell guest stars on an episode this season, and Joel and Jim went back and forth pretending to have had conversations with Malcolm about the other. Jim said Malcolm pulled him aside to ask what was wrong with Joel, claiming Malcom said, "Looking in his eyes is like looking at a blank page. Nothing is on it, and nothing will ever be on it." Joel replied by saying Malcolm came up to him and asked, "Why is Moby on the set?" The banter continued when both actors pretended to have him on the phone.
Alison Brie and Danny Pudi broke into an impromptu song at the audience's request, and after a hysterical attempt, Danny said, "Maybe we should have rapped." When a question was brought up about Chevy Chase's departure, the two filled the silence by returning to the chorus of their funny duet.
The panel ended with a first look at an upcoming episode where all of the characters will be puppets. The cast then got a surprise of their own when they were each handed their puppet replica. They all broke into acting out scenes with their puppets — Jim and Alison even let their characters get a little handsy for the audience's entertainment.