Community Panel at Comic-Con 2010 Photos, Quotes, and Season 2 Details
The Community Cast Celebrates Their First Comic-Con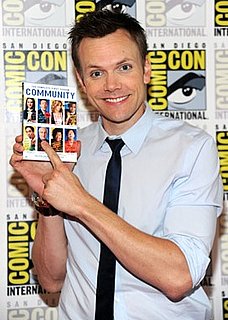 The cast of NBC's Community experienced their first Comic-Con this year, and their reception left them overwhelmed: they were welcomed with a standing ovation from the crowd, which brought star Gillian Jacobs to (happy) tears, and set the tone for an upbeat, love-filled atmosphere. Of course, it wasn't all hearts and flowers from the actors of one of TV's quirkiest comedies; there were plenty of hijinks and quite a bit of goofing off from everyone. Here are the highlights:
Alison Brie talked about the surprise romance between Annie and Jeff, starting with the characters' first kiss. "There was this chemistry that developed, and the fans really took to it." She joked that she's even started reading fanfiction online about the couple getting together!
When the moderator brought up episode favorites, "Modern Warfare" came up immediately. Of being in action star mode, Joel McHale said, "It was the most fun I've ever had, doing anything ever, and that's including drugs." Creator Dan Harmon divulged his inspiration: "My favorite movie is Die Hard," and added that he knew the ep was kind of risky. "I wanted to get to my strong corner fast, in the first season, before we got canceled," he said.
To hear more about the Community panel, just read more.
A hot topic was the bromance between Troy and Abed, but even cuter were Donald Glover and Danny Pudi when they talked about their real-life friendship. It started when Danny helped Donald move ("It was just us in short shorts and visors," they joked), and they launched into an impromptu beatboxing session . . . which turned into a full-fledged performance of "Donde esta la Biblioteca"! Yes, the crowd went wild.
Between Community and The Soup, McHale was asked when he has time to sleep. "I sleep during my stand-up gigs." For all the craziness, it seems like it's all worth it to the actor because of whom he gets to work with. When talking about what's great about the freshman series, he focused on his castmates: "It's a true ensemble . . . I believe it's the strongest cast ever." Listening to Danny Pudi describe the characters Donald Glover makes up to entertain the rest of the group on set (like a magician who cries about how bad he is and a drunk homeless man who tries to have sex with Joel), I agreed with McHale when he claims that "these are some of the funniest people alive."
Comedy legend Chevy Chase talked sweetly about his involvement with the show, saying that he never thought he'd do a show like this, but he enjoys it "because I love my castmates." Aw.
So what can we expect in season two? "High concept . . . low brow," says creator Harmon. "We've got to send them to outer space. There's a way to do it that doesn't break the reality."
Be sure to check out all of my Comic-Con coverage from this year's event!