Community Season 3 Pictures and Plot Details
5 Things We Already Know About Community Season Three
Get ready for a new semester at Greendale! Community returns for a third season on Sept. 22, and we never know what kind of wackiness to expect from Jeff, Britta, and the gang. Luckily, a few details about the season have already been put out there, so I've gathered these details (and some new photos!) into one place so you can do your homework on season three of Community before it comes back.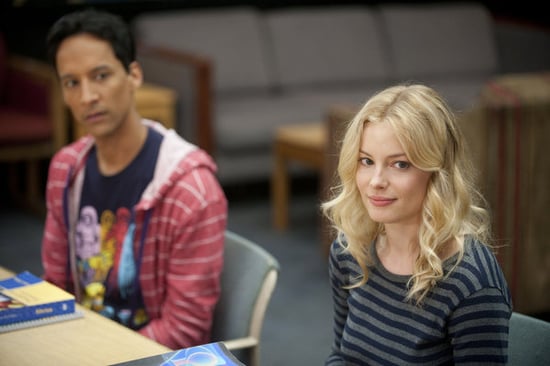 Greendale has some new faces. John Goodman, The Wire's Michael K. Williams, and Martin Starr are all appearing as faculty members in season three. Goodman will be a regular as the scary assistant dean, Williams will be an ex-con professor teaching biology, and Starr will head up a political science class.
Chang is going to be in a position of authority. As Ken Jeong told us in an interview, Chang will be coming back to Greendale in "a position of authority." He wouldn't expand, but word on the street is that he'll be the college's newest security guard. Let's get ready to count the ways Chang's going to abuse that power.
Pierce isn't going anywhere. At Community's Comic-Con panel, series creator Dan Harmon said that Pierce is still going to be in the group, even though he stormed off in the finale. Harmon insisted that they'll address the fact that Pierce became so unlikable, and that they'll explain why the group will want to keep him: "by the time we're done [with the season], you'll know why you would hang out with Pierce."
Troy and Jeff are going to butt heads. When we talked to Donald Glover about Troy's role this year, he mentioned that there's going to be a storyline about Troy growing up and having conflict with Jeff, because now they're both the alpha males. As Glover admitted, there can't be two alphas, so I'm looking forward to seeing who comes out on top — and what they'll do to prove who's the group leader.
Troy and Abed's bromance is going to get intense. During the Comic-Con panel, Glover and Danny Pudi said that Troy and Abed would be moving in together and noted that the transition is going to take their friendship "to the next level." For characters this close, I'm just glad it won't tear them apart.
Photo courtesy of NBC