Conan Named No. 1 With Viewers Under 50, Including DVR Watchers
Do You DVR Late Night Shows?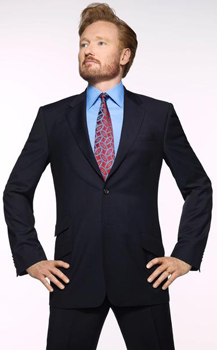 Conan O'Brien's late night show has been on air for just a little over two months, and judging by the ratings, the guy is crushing it — if you count his DVR audience. According to new data, Conan was No. 1 for viewers under 50. But there's a catch: the show received a nearly 20 percent boost in viewership from those fans choosing to catch up on it via DVR. Are you one of them?
I am. If you were to take a peek at my DVR queue, you'd definitely see at least a few Conan episodes, along with one or two from Late Night With Jimmy Fallon or Jimmy Kimmel Live. No offense to those guys, but those shows come on past my usual bedtime (lame, I know). So if I'm feeling sleepy, I'll record the episode, especially if it features a chat with a favorite actor or a funny sketch like Robert Is Bothered. What about you?
Photo courtesy of TBS