Conan O'Brien Announces 30-Day "Legally Prohibited From Being Funny on Television" Comedy and Music Tour
Are You Interested in Seeing Conan O'Brien Live?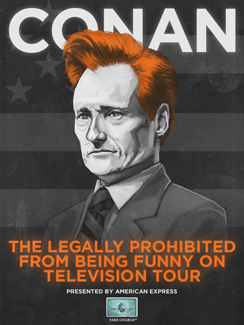 If you've been feeling the loss of a late-night without Conan O'Brien, I have very good news for you: the funny man is coming to your town with his sidekick Andy Richter. O'Brien just confirmed this morning via his Twitter that he'll be embarking on a 30-city tour, appropriately titled "The Legally Prohibited From Being Funny on Television Tour." That means if you live near Boston, Dallas, or a slew of other places (even Canada!), you can land yourself a front-row seat to see him in person as he unleashes his brand of comedy to the masses (and possibly a few jabs at NBC, too). The tour begins on April 14 in Eugene, OR, and closes in Atlanta, GA on June 14. Just in time for him to prep a return to television in September, I hope!
O'Brien commented on his decision in a statement, saying, "It was either a massive 30-city tour or start helping out around the house." I'm sure his wife is really happy with his choice.
I already checked on tickets for myself on his website, and looks like they're going fast. So tell me, are you getting your credit card out now? Or are you going to sit this one out?
Poster courtesy of Team Coco