Conan O'Brien to Host New Show on TBS
Breaking News: Conan O'Brien Finds a New Home on TBS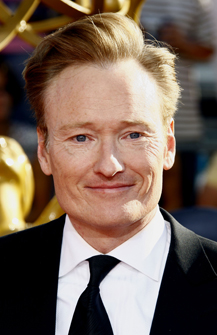 Rumors about the fate of Conan O'Brien's career have been flying for months, but now it's official: the late-night host will move to TBS. He said, "In three months I've gone from network television to Twitter to performing live in theaters, and now I'm headed to basic cable. My plan is working perfectly." Conan's new hour-long show will premiere in November (after the World Series) at 11 p.m., right before Lopez Tonight.
For a while it sounded like O'Brien would be headed to Fox, but apparently a call from George Lopez himself helped him make his final decision. Lopez said, "I can't think of anything better than doing my show with Conan as my lead-in. It's the beginning of a new era in late-night comedy."
Sounds like a new era indeed. TBS seems worlds away from NBC, but maybe we're looking at a changing zeitgeist here. Will you follow Conan to his new network?