Conan O'Brien and Jay Leno's Late-Night Switch on NBC Is One of the Biggest Headlines of 2010
2010 Biggest Headline: Late-Night Musical Chairs on NBC
Think back to earlier this year, and you'll recall the fiasco that those of us at Buzz fondly refer to as the NBC Late Night Controversy of 2010. It all started when The Jay Leno Show started tanking in its 10 p.m. time slot, angering local NBC affiliates. To soothe matters, the network voted to move Leno back to 11:35 p.m. — in the spot that was occupied by The Tonight Show With Conan O'Brien. Conan responded by refusing to bump his show back to 12:05, and a scuffle ignited that had viewers passionately taking sides.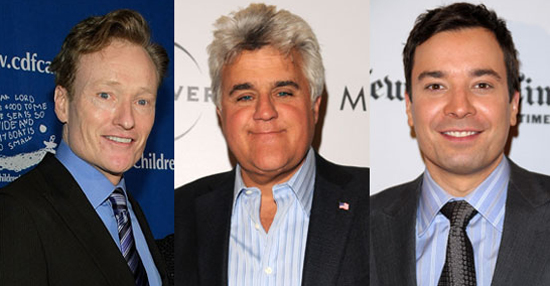 Pointed jokes took over our TVs, and ratings skyrocketed as all of us tuned in to see who would say what next. Conan O'Brien and Jay Leno both made light of the situation, right along with their fellow late-night peers. It was great entertainment, but after weeks passed with no resolution, most viewers just wanted it all to be over.
Finally, a deal was reached: Conan left NBC to the tune of $40 million, giving up his gig as Tonight Show host. In his place, Leno returned to his old stomping grounds, while Jimmy Fallon stayed put. Conan said goodbye with his final Tonight Show and played a little "Freebird," while the rest of us mournfully looked on and waited to see what he'd do next.
To reminisce about what happened next, just keep reading.
Lucky for us, the host didn't stay in hiding. Conan started up a Twitter account and hopped around the country on a wildly successful comedy tour. But a return to TV is what the public really wanted, so after months with no word, Conan finally announced his move to TBS.
Though the switch to cable seemed like an odd fit at first for the late-night host, he still managed to bring in big ratings for the November premiere of Conan, even scoring higher than Leno. After such a long, drawn out drama, fans were happy to welcome him back — and to put the whole saga to rest.