Conan O'Brien New Show Conan Airs Tonight Monday Nov. 7 on TBS
TV Tonight: Conan Is Back!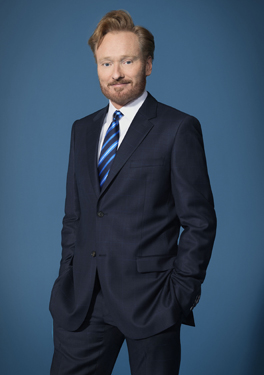 Ladies and gentlemen, the time has come: this evening is the premiere of Conan O'Brien's new late night show, Conan! With all that nasty business from earlier this year behind us, the funnyman will reclaim his spot as TV host on cable network TBS. After myriad promos and a sneak peek in the form of "Show Zero" last week, tonight we'll finally be able to watch O'Brien back in his element: behind a desk, interviewing celebrities and cracking jokes (and hopefully with a decent amount of the string dance).
Visiting Conan's new stomping grounds tonight are inaugural guests Seth Rogen, Lea Michele, and musical guest Jack White. Not that I need an extra incentive to tune in — I've missed my favorite redhead's TV presence intensely in the past few months (and evidently you have too), and I'm welcoming him back with open arms. Will you be watching Conan's return?