Conan O'Brien Signs Buyout Deal With The Tonight Show For $40 Million Plus
Conan O'Brien Signs $40 Million Deal to Leave NBC, Leno Takes Tonight Show Back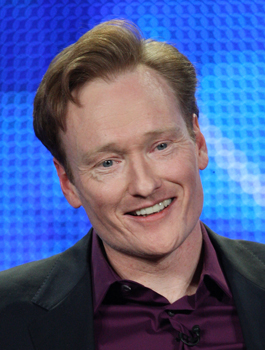 Finally, all the drama is over. Conan O'Brien has signed a deal with NBC for more than $40 million to walk away from The Tonight Show. O'Brien's manager, Gavin Polone, was the one to confirm the news today, saying that Conan solved the last sticking point of his employees' severance himself:
In the end, Conan was appreciative of the steps NBC made to take care of his staff and crew and decided to supplement the severance they were getting out of his own pocket. Now he just wants to get back on the air as quickly as possible.
Conan's last show as The Tonight Show host will be this Friday, and the good news for fans is that he should be able to be back on the air with another network in September. Sounds like just enough time for a really deserved vacation.
It's also been confirmed that Jay Leno will take back his old hosting gig on The Tonight Show starting March 1, and Late Night With Jimmy Fallon will continue to air at 12:35 a.m.