Cory Monteith TCA Interview on Glee, His Funny or Die Video, and Gwyneth Paltrow
Cory Monteith Talks Funny or Die, Being a Goofball, and "Amazing" Gwyneth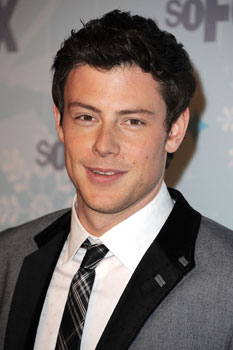 I caught up with Cory Monteith, better known as Glee's Finn Hudson, at the Fox TCA party in LA this week. Of course, the first question on my mind was about that hilarious Funny or Die video he recently starred in, but the actor also gave us a hint at what's to come for Finn and gushed about guest star Gwyneth Paltrow. Check it out!
BuzzSugar: How did the Funny or Die video come up?
Cory Monteith: Heather Morris, right here! She came up with the concept with her friend. She pressed me to do it, and it took me about three seconds to make up my mind — I mean, I was excited. I look as awkward as possible, but whatever!
Buzz: Are you trying to do more fun extra projects like that?
CM: I'm always hoping to, absolutely.
Buzz: Do you have a desire to do more goofy comedy beyond what you get to do on Glee?
CM: Yeah, I'm a goofball. I think it'd be cool to do that kind of stuff.
Buzz: What do you think is going on with Finn right now?
CM: Finn has grown up a little bit. He seems to be growing up especially in the presence of a younger guy like Sam. He's absolutely developing and he's getting a little wiser, having new experiences.
To find out what Monteith had to say about working with Paltrow, just
.
Buzz: What is it like working with guest star Gwyneth Paltrow?
CM: Amazing. She's an incredible talent. Not only is she obviously an incredible actress, this Oscar-nominated actress, she's the true triple threat. She did what we did, day in day out, with an hour and a half notice.
Buzz: What's her personality like?
CM: 100 percent down to earth; she's just like one of us. There's no pretense, she doesn't put on an air. She's just [about] showing up, doing her job.
Did you get to hang out with her?
CM: I did get to spend some time with her. She's just this down-to-earth, lovely person.
Buzz: Are you looking forward to award season?
CM: I'm really excited. I'm excited that people have nominated our show for so many awards; it's an honor.