Cowboys and Aliens Movie Review
Cowboys & Aliens: How the West Was Meh
The opening sequence of Cowboys & Aliens sets up what could be an awesome action adventure: a man (Daniel Craig) wakes up in the New Mexico desert with no memory of how he got there. The only memento of his journey is a chunky piece of metal strapped to his wrist. In no time at all, we learn that this cowboy is pretty badass, and we're ready to follow him on his quest for identity. The one downside to having a gripping opening scene is that it sets the bar high for the rest of the film — and Cowboys & Aliens goes downhill from there.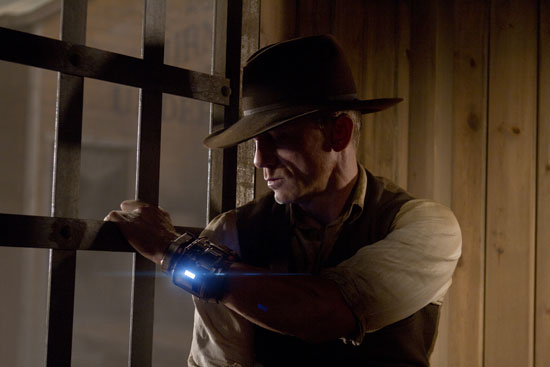 You already know what this movie is about, and it doesn't offer much more than what is promised in the title. Director Jon Favreau has plenty of fun putting together slick action scenes as we watch sci-fi and Western blend into one, but you can only watch cowboys shoot guns at UFOs for so long before you start to grow a bit weary.
To see why the film didn't live up to my expectations, just
.
Craig's character, which we learn is actually named Jake Lonergan, moseys into a nearby town to put some of the pieces of his identity together. There, he meets a mysterious woman (Olivia Wilde) who takes an interest in helping Jake recover his memory, and causes some trouble. Before he can be carted off to prison, an alien attack hits the town, leaving Jake to join a handful of locals, including a powerful-but-prickly ranch owner (Harrison Ford), to hunt down the E.T.s.
Aside from the novelty of seeing aliens in the Old West, Cowboys & Aliens has built-in box office draw thanks to Craig and Ford. Putting James Bond and Indiana Jones in a movie together is enough to get fans to the theater (and makes for a smokin' hot movie poster), but Craig and Ford have so little chemistry together that I almost felt duped. Both actors are fine playing broody, no-nonsense cowboys, but the script doesn't let them have any fun at all. They're neither rivals nor friends, and what could have been an epic onscreen team is little more than two guys in chaps riding around on horses and grunting at each other.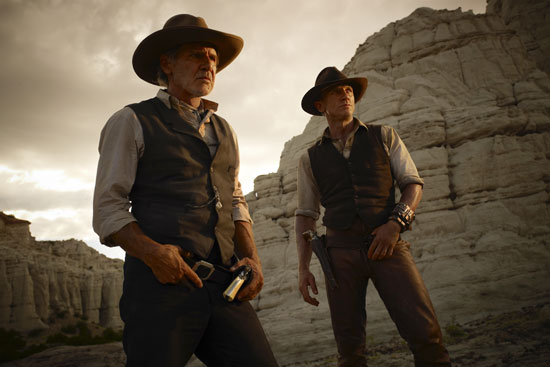 Lucky for us, the movie has a stellar supporting cast playing characters that you actually care about. Sam Rockwell plays against type as a meek bartender who's out of his element around the tough guys; Noah Ringer gives an effective performance as the wide-eyed young boy along for the ride; and Paul Dano manages to bring a few laughs as Ford's obnoxious, privileged son.
With a plot filled with uninspired twists carried by underdeveloped characters, Cowboys & Aliens has some exciting scenes, but is ultimately too big for its britches.