Crazy, Stupid, Love Movie Review
Crazy, Stupid, Love: Touching, Smart, Lovely
In a sea of Hollywood movies depicting relationships through clichés, Crazy, Stupid, Love actually gets it right. Steve Carell stars as Cal, a man who's been abruptly dumped by his wife, Emily (Julianne Moore). Despondent and friendless, Cal takes to hanging out in a local bar, where slick ladies' man Jacob (Ryan Gosling) takes pity on him. Under Jacob's tutelage, Cal dresses better and learns to be assertive, as he unhappily figures out his life without Emily in it. A couple of subplots are woven throughout as well: Jacob, not used to being rejected, falls for the only girl who seems to be able to resist his charms, a law student named Hannah (Emma Stone). Meanwhile, Cal and Emily's teenage son Robbie is in the throes of unrequited love for his babysitter, Jessica (Analeigh Tipton) — who's harboring a crush on Cal.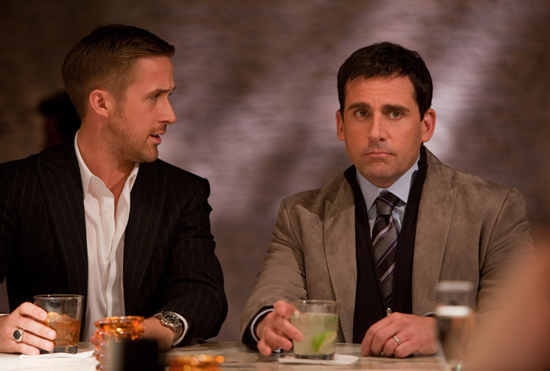 There's certainly a lot going on, but Crazy, Stupid, Love manages to illustrate the value of each emotional connection in the movie without veering too far off course. To find out why I loved the film, just read more.
The partnership of Carell and Gosling is one of the most enjoyable things about the movie, mainly because Gosling is so impressive as a comedic actor. In scenes like Cal's makeover montage and those opposite Stone, he executes the dialogue so perfectly you'd think he was harboring a secret stand-up career. Unsurprisingly, he segues easily into the later dramatic scenes with Carell, and both actors excel.
I would have liked to see Carell in a role that was more of a stretch (he's essentially playing his 40-Year-Old Virgin character after a few years of marriage), but he's still a delight. Postmakeover, we do see another side of him: the confident Cal who's trying to move on. Many of Cal's actions are played for laughs, but those laughs are procured because his experience feels so real. Cal's accrued laziness after being with the same person for years, his inability to communicate during the breakup, his fear of putting himself out there and being vulnerable — Carell captures it all in a fully relatable way.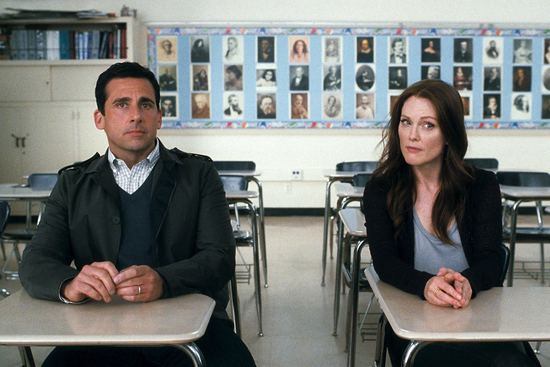 The rest of the cast keeps up the quality; Stone turns in a hilarious performance, as does Marisa Tomei in a small but scene-stealing role. Moore is her usual superb self, and Tipton, whom you may recognize from America's Next Top Model, is surprisingly good. With so many characters and so much ground to cover, the movie verges on being a little long. But it's packed with so many different kinds of scenes — from the heartbreaking to the mortifying to the breathtakingly romantic — that it all feels necessary.
Crazy, Stupid, Love is the kind of movie that brings out your inner cornball, and unlike other romantic comedies, it doesn't make you feel crazy or stupid for feeling that way.