DVD Release Date For Contagion
What to Rent: New DVDs This Week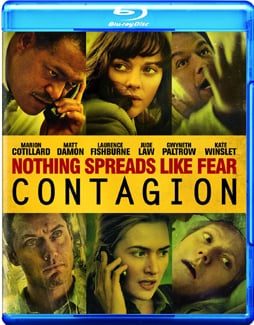 Matt Damon stars in this drama as a man whose wife (Gwyneth Paltrow) is the first victim of a deadly virus. As he grieves and tries to keep himself and his daughter safe, the world goes through crisis, and several other characters try to solve the mystery of how and where the disease broke out. Stephen Soderbergh directed this thriller, which boasts an ensemble of A-listers that includes Kate Winslet, Jude Law, and Marion Cotillard. The subject matter may make you feel like a germaphobe, but the movie is a tense and entertaining ride. The DVD extras include several featurettes.

86%
A woman (Katie Holmes) moves into a decrepit mansion with her boyfriend (Guy Pearce) and his daughter, but their home life is less than idyllic when the little girl starts complaining about being tormented by creatures in the house. Guillermo del Toro produced and co-wrote the horror film (a remake of a '70s made-for-TV movie), but his touch doesn't save the film from feeling a bit formulaic. A three-part making-of documentary is included as a DVD extra.
To see one more new release, just keep reading.
Sarah Jessica Parker plays Kate, a woman who is trying to balance it all — career, marriage, kids — but finds herself flailing more often than not. Greg Kinnear stars as her husband, and Pierce Brosnan plays the suave colleague charmed by her frazzled antics. Parker is cute as always, but the portrayal of her klutzy ways is less than entertaining, as are the various gimmicks the movie uses, like the documentary-style confessionals from supporting characters. DVD extras include a conversation with the author of the book (Allison Pearson) the film is based on.
17%