DVD Releases for June 15 Include When in Rome, Youth in Revolt, and The Book of Eli
What to Rent: New DVD Tuesday
Don't fret about there being nothing on TV when you can be catching up on movies! Get in on my Summer Netflix challenge or get your hands on one of this week's new DVD releases.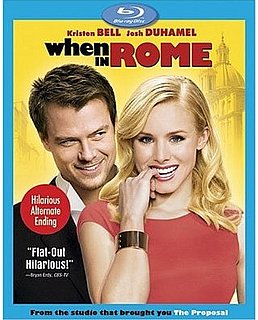 When in Rome
When in Rome is definitely one of those movies a romantic comedy lover won't be able to resist renting. No, it's not Oscar-winning material, but it is a cute, frothy slapstick confection that's fun enough. This is thanks to leads Kristen Bell and Josh Duhamel, who are united by the coins of a magic fountain that make men fall in love with Bell. Yes, I know how dumb that sounds, but I enjoyed the silly flick for its laughs and goofball cast, which also includes Will Arnett and Dax Shepard. The DVD extras include a blooper reel, deleted scenes, and two music videos.
Youth in Revolt
Michael Cera treads both familiar and unfamiliar character territory in his Youth in Revolt dual role. As awkward teen Nick Twisp and his suave altar ego Francois, Nick sets his sights on his dream girl, and Francois gets him in more trouble than Nick bargained for. It all makes for an irreverent, if uneven, adaptation of CD Payne's novels. Zach Galifianakis and Justin Long provide cameos in the comedy, which is worth seeing just to watch Cera leave his comfort zone by playing a mustachioed Casanova. Extras on the DVD include a commentary track, deleted scenes, and the actors' audition reels.
To see one more new release, just
.
The Book of Eli
Denzel Washington tackles a bleak, post-apocalyptic world in The Book of Eli, a quasi-religious action movie where chaos has taken over civilization and his nameless character must keep the last remaining bible safe. I didn't love this movie — it gets ridiculous and overly stylized where it could have been brought down to earth a little, but it still pulls off a fascinating twist ending. The DVD extras include some additional scenes.