Dads TV Show
Dads: The Show's Creators Know Some Things Need to Change
Giovanni Ribisi and Seth Green are coming to primetime with Fox's sitcom Dads, and when they came to Summer TCA, they found themselves having to defend the show, alongside the creators of the series, like Alec Sulkin and Mike Scully. The Dads pilot has lots of racial and sexist humor, and the showrunners did admit that on viewing the pilot, they realized some things they'd like to change. Find what else they said, along with how the stars (including Vanessa Lachey and Brenda Song) stuck up for their show.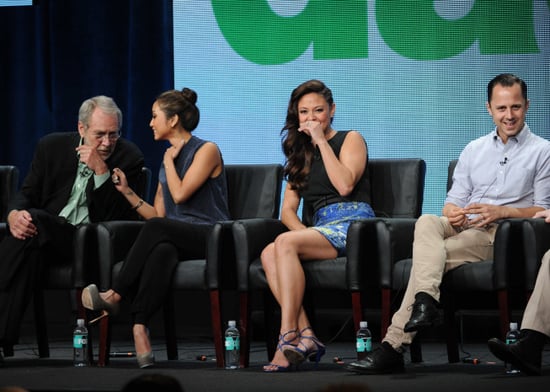 Sulkin was the first to say that the pilot episode isn't perfect. "In the pilot, we all noticed some things we'd like to change or tweak moving forward. We'd like to keep it insulting or irreverent, but the most important thing is that it is funny . . . if we missed the mark a few times in the pilot, I think we're shooting to hit it better in upcoming shows." Scully, who has been a showrunner on The Simpsons for years, also admitted that they now know they have "this amazing cast with comedy chops" and they can now write to them. "You'll notice a change in tone and a balance," Scully pledged.
Green and Ribisi spoke up on behalf of Dads, with Green citing, "All of the best and most successful shows were provocative and offensive," and reminded the audience that "none of these characters are fully formed in the pilot." In a discussion about the stereotypes of other characters, particularly Song's, Green said, "Just to be fair, these are disparaging portrayals of white males," too. Ribisi, for his part, said that he had been "laughing out loud at so many of the different things" in the pilot, and his real motivation for doing the show was "the company and the people involved." He echoed Green's statement about the characters, saying they are "evolving and trying to find out who these people are."
The bottom line from Scully was, "We don't want the show to be the racial, insult comedy show." He stressed that "it's a comedy about fathers and sons," which they want to be relatable, and for him, that was in sharing embarrassing stories about dads. He shared a funny anecdote about his own father: "I grew up with him saying horrifying things at the dinner table . . . Let's just say, I thought the word motherf*cker was normal dinner conversation, and that was during grace."