Dads TV Show Review
Pilot Scoop: Dads
It's pretty standard to see familiar faces in Fall pilots, and Fox's new comedy Dads, which makes its debut tonight, is no exception. The show stars Seth Green and Giovanni Ribisi as best friends who are struggling with their relationships with their fathers. The sitcom (which features an old-school laugh track) is joining the Tuesday night lineup that already includes New Girl and The Mindy Project, but read our review to see how it fits into the comedy block.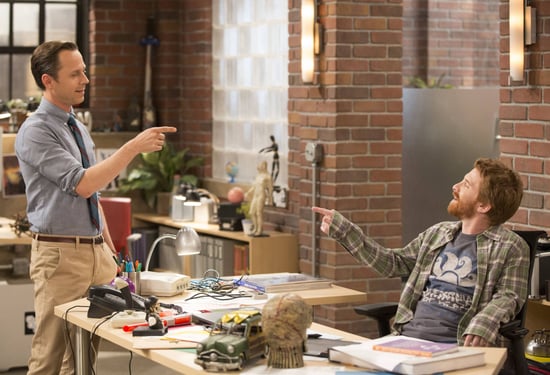 What it's about: Warner (Ribisi) and Eli (Green) are BFFs and work partners, even though Warner's a buttoned-up family guy and Eli's essentially an overgrown teenager. They find that they have a new common ground when both of their dads move in to their respective homes and immediately proceed to wreak havoc on their sons' personal lives.
Where it works: We've seen Ribisi in plenty of quirky and weird roles over the years (most recently, Ted and Gangster Squad come to mind), so it's a refreshing change of pace to see him playing someone a little more normal.
Where it doesn't: Pretty much everywhere. The humor is consistently offensive, racist, and sexist. That might sound par for the course when the show's executive producer is Seth MacFarlane, but unlike Family Guy or Ted, the jokes aren't edgy — they're just unfunny. Even the dad angle doesn't make it more relatable; both of the dads are irritating to watch and just make their onscreen sons more irritating to watch as well.
You might not like this show if: You were offended by Seth MacFarlane's hosting performance at the Oscars this year.
When it's on: Tuesdays at 8 p.m. on Fox
Watch a preview for Dads when you read more.