Dallas Buyers Club Review
Why Dallas Buyers Club Is Already an Award-Season Contender
Dallas Buyers Club features Matthew McConaughey and Jared Leto in roles they physically transformed themselves for, but that's far from the only reason this movie is notable. The drama is based on a true story set in 1980s Texas, when AIDS was a relatively new disease and there wasn't a lot known about it. McConaughey plays Ron Woodroof, a hard-partying cowboy who finds a new business opportunity when he discovers the lack of treatment options after he's diagnosed with HIV. The heavy subject matter is a vehicle for outstanding performances and a compelling story, and there are three big reasons the movie is so heartbreaking — and so great.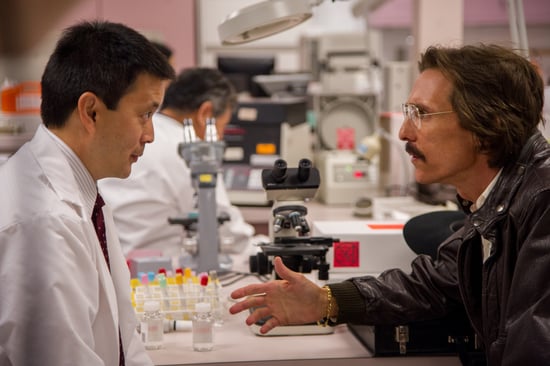 Matthew McConaughey's Performance
McConaughey has taken on a wide variety roles in his career, but this may be his most powerful performance yet. Ron isn't a sympathetic character at all when you meet him; he's homophobic, drug addicted, and selfish, and though his eventual endeavor into AIDS treatments benefits others, he gets into it for the money. However, McConaughey makes him someone you can stand, and he develops the character in a believable way. And somewhat impossibly, he's occasionally funny. McConaughey shows new dimensions to his talent, and he blew me away.
Jared Leto's Character
Dallas Buyers Club isn't all about McConaughey. Leto plays Rayon, a fellow AIDS sufferer with whom Ron goes into business when he realizes that he needs help reaching out to the gay community. Sure, it's eye-opening to see '90s heartthrob Leto dressing in womens' clothing, but that's not what makes the performance so memorable. Leto is wonderful as Rayon; he's sympathetic and sensitive where Ron isn't. Rayon is the character you get the most invested in, and he brings out the most interesting side of Ron, since he forces him to grow. He does the same for supporting character Dr. Eve Saks (Jennifer Garner), a childhood friend of Rayon's who cares for him deeply.
Get the last reason after the jump.
The AIDS History Lesson
Anytime you watch people suffer from a terminal disease, it's going to be depressing, but Dallas Buyers Club teaches you about the sad reality of AIDS treatments in the '80s. At the time, the drug AZT was the only pharmaceutical drug approved for HIV, and it was reportedly the most expensive prescription drug on the market at the time. In the film, Ron comes up against this obstacle, and when he also learns of AZT's toxicity, he turns to a doctor in Mexico who supplies him with a variation of treatments. Ron brings the treatments back to the US, starts a membership club in which fellow HIV patients can buy their share, and a business idea is born. It's interesting to learn about these buyers clubs that existed all over the country, but it's also disheartening to find out about the impediments to treatment that HIV and AIDS patients encountered.