Dan Byrd of Cougar Town Interview at 2011 Winter TCA About Emma Stone
Dan Byrd Talks Cougar Town, Travis's Love Life, and Rooting For Emma Stone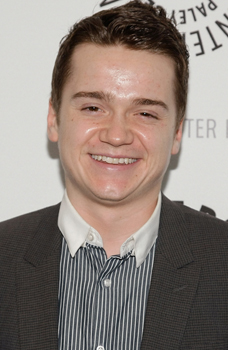 This week's Winter TCA festivities included a visit to the set of Cougar Town, and besides learning lots of funny, amazing tidbits about the show, I also had a chance to chat up the series' stars. I talked to Courteney Cox about how the show has helped her, and I also had a few minutes with her onscreen son, Travis, played by Dan Byrd. The young actor had a few things to say about his character's romantic life as well as his movie career, which recently included little gem Easy A, in which he appeared with Golden Globe nominee Emma Stone.
Buzz: Even though the concept for the show has changed, Travis's girlfriend is a few years older, so he's kind of dating a cougar right now.
DB: A little bit! I don't know if she quite qualifies as cougar status, but there are shades of it.
Buzz: Is Travis's current love interest sticking around?
DB: What I've heard — this is a spoiler alert — Travis I think gets a little swept up in that particular romance and tries to take it to the next level and gets shut down and pretty much spirals toward the end of the season.
To see what Dan had to say about Emma Stone and Easy A, just
.
Buzz: Are you getting recognized for Easy A too now?
DB: Yeah, I get that a lot! Now that it came out on DVD, and a lot of people saw it over the holidays and stuff. But most of the time, they don't know what they recognize me from.
Buzz: Are you excited for Emma Stone's Golden Globe nomination for Easy A?
DB: Aw geez, I just heard that a few days ago. I don't know how I missed it when it came out, but she's so far and away the most talented young actress I've ever worked with. I felt like, when we were filming I was just kind of trying to keep up with her. She's got this natural charisma that shines through regardless of what she's doing that really resonates with people. Super down-to-earth, super sweet, smart, funny girl that I think is going to be around for a long time.
Buzz: Are you pursuing other movies?
DB: Yeah, if something cool came up, then I definitely would. I've been in a few movies that I really wish I hadn't been in, so to avoid doing that again. It's hard because it's sort of an age where there's not a lot of stuff out there. Not a lot of material, and the material there is skews toward raunchy comedy. So since I get to work eight months out of the year, when it's hiatus I'm not chomping at the bit, but if something cool were to come up, then I'd be all for it.