Dane DeHaan Interview For Kill Your Darlings
Dane DeHaan Is BFFs With Daniel Radcliffe, but Not a Harry Potter Fan
Dane DeHaan plays a troublemaking intellectual opposite Daniel Radcliffe as beat poet Allen Ginsberg in this week's Kill Your Darlings, and it's just the latest interesting role for DeHaan. The actor keeps racking up hot, eyebrow-raising roles — including the upcoming part of Harry Osborn in The Amazing Spider-Man 2 and James Dean in Life with Robert Pattinson. I sat down with DeHaan and a few reporters at the Toronto International Film Festival to chat about working with Radcliffe, as well as the coincidence of playing two roles James Franco has already played.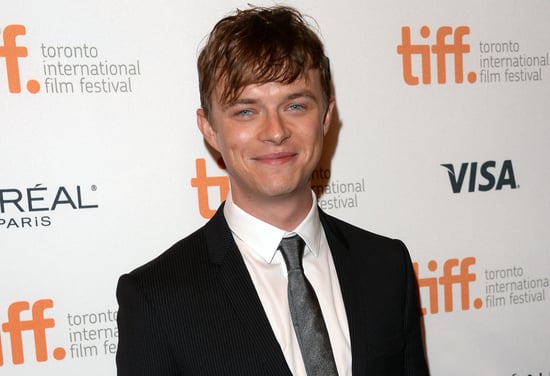 What was your experience working with Daniel Radcliffe?
Dane DeHaan: I had never seen a Harry Potter film before this. I wasn't honestly very familiar with Dan as an actor. I obviously knew who he was, but he was great from the start; he was even prepared in my audition. We became close friends fast. After meeting him and working with him that day, I immediately became excited to work with him.
Why were you drawn to this project?
DD: I think that it's a story that I certainly hadn't heard before, and most people don't know, but everybody should, so that had a lot to do it with it. Plus, it was a really great script, and I just fell in love with the part and how complex and impossible it seemed. It just had all the elements of things I look for in a project.
Were you familiar with beat poets like Ginsberg and Jack Kerouac before the film?
DD: I was certainly aware of who they were and what they stood for, and I had read some of their stuff, but it was more the story itself; it wasn't about being in a movie with characters whose books I really like. It was about telling this story, about how they became who they were in a really interesting and amazing way.
What do you make of the fact that you are now playing two roles James Franco has already played (Harry Osborn and James Dean)?
DD: I don't really care. We're very different people. Our Harry Osborns will be very different. I'm sure our James Deans will be very different. I guess the only things that I see that we have in common is that we both had the opportunity to play both those parts. [Playing Dean] is going to be a really big undertaking for me, and I am really terrified, and it's going to be a huge challenge. Being terrified and being challenged — those are the two things that are important to me going into something. I'm really excited to tackle it and I have a bunch of time to prepare it, and I'm really looking forward to it.
Or you could just choose James Franco movies.
DD: Oz the More Great and the More Powerful!
How are you going to differentiate your James Dean?
DD: I'm going to look at James Dean. I'm going to study James Dean James Dean; I'm not going to look at James Franco James Dean. There's a whole wealth of material about the actual man. I think I'm going to stick with James Dean. And when I say James Dean, I don't mean the porn star James Deen [laughs].
What else can you tell us about the film?
DD: It's kind of similar to [Kill Your Darlings] in that it's about who James Dean was as a person before he became famous. The person that people know as the icon James Dean — that's not who James Dean was. I think what's really interesting about the script is it shows how a normal person can be turned into an icon, even through just a series of photographs and some good work in movies. That's a really amazing thing. He's my favorite actor, and I will work tirelessly to honor that project as much as I can.
Have you been thinking about how you'll pull off that famous James Dean hair?
DD: James Dean had the best hair in Hollywood. Yeah, I've been thinking about his physique and his face and his hair; everything.