A Dangerous Method Movie Review
New York Film Festival Takeaway: A Dangerous Method
David Cronenberg's A Dangerous Method is one of the most-anticipated movies showing at the New York Film Festival, which kicked off last weekend and continues on until Oct. 16. Cronenberg and one of his leading men, Michael Fassbender, joined writer Christopher Hampton in the Big Apple this week to present the picture and conduct a Q&A for press. I was able to check out the screening and hear a little of what Michael, David, and Christopher had to say.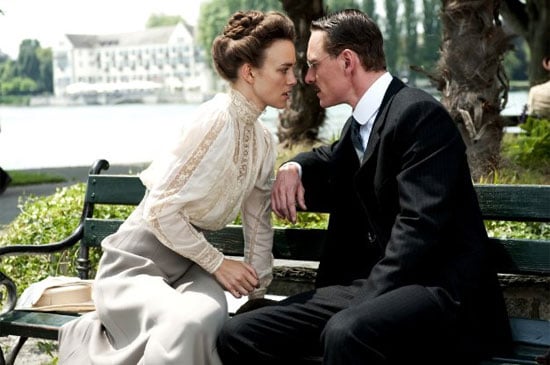 Who's behind it? David Cronenberg was behind the lens, teaming up with regular colleague Viggo Mortensen for the third time, after the men also worked together on A History of Violence and Eastern Promises. Mortensen plays Dr. Sigmund Freud, along with Fassbender's psychoanalyst Carl Jung, and Keira Knightley as Sabina Spielrein, a hysterical patient who turns her interest in medicine into a doctorate. The script is from Atonement's Christopher Hampton, who also wrote the play, The Talking Cure, on which the movie is based.
What's it about? A Dangerous Method is based on Freud, Spielrein, and Jung's real lives. Spielrein and Jung first cross paths when she's admitted to his Zurich clinic, and it's there that she's introduced to his and Freud's psychoanalytic method. Jung shares with Freud a belief that many, if not most, psychological problems are rooted in sex. Spielrein seems to agree, and her relationship with Jung became both personal and professional. Jung later visits with his friend Sigmund in Vienna on a sort of hero-worshipping pilgrimage. However, on a trip to America, the men have a falling out over Jung's spiritualism, to which Freud is opposed. Hampton's story examines the effects of Jung and Spielrein's affair on their careers, families, and professional futures.
To read what I thought about the movie, just read more.
What did I think? I was excited to see this film because of the amazing combination of Fassbender, Cronenberg, and Mortensen. Unfortunately, the screenplay wandered and went on too long — at 99 minutes long, I was still ready for the film to be over around 80. It felt very much like a play-turned-film. Despite the meandering, the movie is still worth seeing for the great acting, luscious settings, and a subject matter ripe for a sensational story. Some are whispering that Knightley's turn as Spielrein could earn her an Oscar nomination, but I thought her hysterical scenes seemed a bit overdone. Fassbender, though, shines as always, as does Mortensen.