Danny McBride on Talking Dirty to Natalie Portman, Your Highness, and Being a True Southern Gentleman
Danny McBride on Talking Dirty to Natalie Portman, Your Highness, and Being a True Southern Gentleman
Danny McBride cowrote and costars in the medieval comedy Your Highness, which hits theaters on April 8. The actor plays the massively lazy Prince Thadeous to James Franco's Prince Fabius. When Fabius's fiancée is kidnapped, Thadeous is forced to go along on the wild ride to rescue her. Along the way, the bros encounter pervy old wizards, fierce female warriors, and even a fabled minotaur. Danny reunited with James in Beverly Hills for the movie's press day recently to talk about getting crude with Natalie Portman, working with Pineapple Express director David Gordon Green again, and which moments had him cracking up on set. Here are some highlights: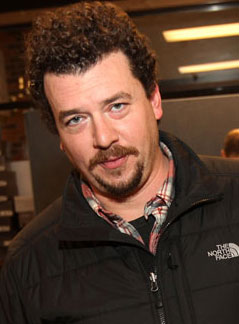 On the hardest scene to shoot: "You know, surprisingly the scene that I couldn't get through was the scene I had to do with Natalie where we're sitting at this table in this tavern, and I have to confront her about stealing this compass. And the way David Gordon Green directs, he is literally right out of frame of the camera. And he stands there and makes you say the most ridiculous things, and you can't really hesitate. You just have to keep going through with it. And in the scene, he's just like, 'Call her a bully and a whore!' And so I just started doing it without thinking about it, and as soon as I looked at Natalie and the word 'whore' came out, it just felt horrible, and I couldn't get through it. I just kept doing it over and over. That weirdly, was the hardest thing."
On getting Natalie on board for the film: "David had been in talks with Natalie about another project . . and in his conversations with Natalie, she kind of brought up this project and said she was dying to do a comedy and really wanted a chance to work with us. We were thrilled by that, because having actors like James and Natalie — to us, that's what separates this movie. It's not a movie that's just filled with your typical comedians as cast, but with a lot of prestigious actors. And I honestly was really embarrassed to hand Natalie the script for the first time. I was like, 'Should I just go through and take out all this dirty stuff?' I'm nervous to show her this, and David's like, 'No. We gotta let her know what she's in for.' And she was a total champ. The stuff I thought would make her blush, that's the stuff she thought was funny, and totally embraced it. And on the set she never shied away from that stuff. She could definitely hang with the boys. She wasn't intimidated by any of it."

For the rest of Danny's interview, just read more

On how he's different from his on-screen characters: "Well, despite how I may come across on screen, my act is pretty clean. I tend to play it clean. And I got married last October, and so I have cleaned my act up. I was born in the South and raised to respect ladies and be a gentleman, so that's something that's always been important to me."
On the movies that sparked the idea for Your Highness: "David Green and myself went to film school together, and I was a freshman and he was in his second year of film school, and we both lived in the same dorm, and I met him the first week I started going to school there. And you know, when you go to film school, you've got all these guys who are trying to show everyone how smart they are, and they're bringing forward all the pretentious art-y films because they think those are the movies you have to like if you're going to film school and one of the things that David and I instantly clicked on was, we appreciate those films, but at the same time, appreciated movies like [fantasy films] Beastmaster and Krull and Dragonslayer and these fun movies that capture your imagination when you're a kid. So it was awesome being able to make one of those movies, and it just gave me a very good excuse to my wife of why I needed to be watching Krull on repeat all the time. 'Cause I really couldn't have gotten away with it unless I was getting paid for it, so it was a selfish reason to make this film."
On talking people into making the movie: "You know, the first day we came in and pitched it, we pitched it as Krull meets Barry Lyndon. And the executives were like, 'Never pitch this movie like that ever again.' But to us, that's what it was. We wanted to take it and approach it as a serious drama but at the same time, have that fun that we had with Krull, and you know, that was always the concept. That's what was interesting about being on this project, is like, can you make a legitimate fantasy movie like this and still find a way to find comedy without making it a spoof. And that was I think that's what interested me in creating it from the beginning. This was — this will be something interesting to try."