The Dark Knight Rises Review
The Dark Knight Rises: A Hero's Goodbye
Christopher Nolan's Batman films have been darkly dramatic and staggeringly intense, and in the same way that The Dark Knight improved on the foundation laid by Batman Begins, The Dark Knight Rises reaches even further to become the perfect conclusion to this trilogy. Christian Bale is back as Bruce Wayne and his alter ego Batman, but both of his identities have all but disappeared since Batman took the fall for the murder of Harvey Dent in The Dark Knight. It's eight years later, and Bruce is a weakened recluse who's still grieving the loss of his love, Rachel Dawes. The streets of Gotham, however, have been clean since the death of Dent, and Batman's patrol isn't as necessary. It's the perfect opportunity for a new villain to strike.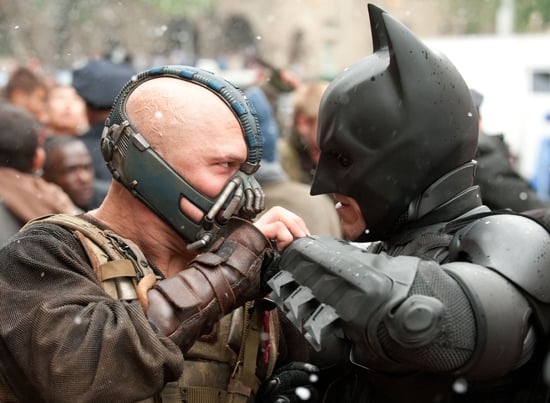 The terrorist Bane (a masked, bulked-up Tom Hardy) wants to unseat the privileged citizens of Gotham as well as physically destroy the city, creating a threat to the very survival of Gotham. But The Dark Knight Rises isn't about Batman defeating a foe; it's the story of how he, as a defeated man, loses everything and finds the strength to pull himself back up to fight. Bruce Wayne's character development is what makes this film moving. But that doesn't mean that Nolan neglects any other responsibility in making this a heart-pounding thrill-ride; the visual effects are eye-popping, and the plot twists are as jaw-dropping as the action sequences. Nolan doesn't let down fans of his series; The Dark Knight Rises is a stunning conclusion to a fantastic trilogy.
To find out why I think The Dark Knight Rises is so good, just keep reading.
The acting elevates the absorbing story, and Bale is fantastic in the role, as usual. If anything, he's more affecting as he portrays the character like we've never seen him before: he's fragile, and he's been beaten, mentally and physically. He's not sure why or how he can keep fighting. In his corner is Officer Blake (Joseph Gordon-Levitt), a cop who still believes that Batman is a hero. His character gets a lot of focus as the moral center of the movie (a necessity while Batman is in hiding), and Gordon-Levitt earns it with an affecting performance.
Bruce/Batman has a couple of flirtations in the movie: Marion Cotillard is luminous as Miranda Tate, Bruce's business associate and love interest. However, it's Anne Hathaway who beguiles not just him but the entire audience as the mysterious, morally ambiguous Selina Kyle. As the sleek cat burglar, Hathaway is fierce and saucy, and though she does look incredible in her leather suit, she's not all sex appeal. Her character is enigmatic (and not just because she can disappear so easily). She may be tough and have the best one-liners, but it's also evident in Hathaway's expression that she's masking a complicated past.
The ensemble of great actors just adds to the all-around quality of this movie, although Hardy isn't used to his full potential. With his body a mass of muscle and his face covered in a mask that would make Hannibal Lecter shudder, Hardy is unrecognizable, but the fact that his voice is obscured, both by the device and an odd accent, that makes his presence feel like a misspent opportunity. The fact that he's often difficult to understand takes away from the formidable menace he's supposed to be.
The Dark Knight Rises is so much more than a mere sequel; Nolan seamlessly weaves in elements from the first two films to ensure that he's created a well-rounded saga. It's not only a fitting finale to the trilogy on the whole, but also a stellar, satisfying film on its own.