DeAndre Brackensick Voted Off American Idol
American Idol: Was the Right Person Voted Off?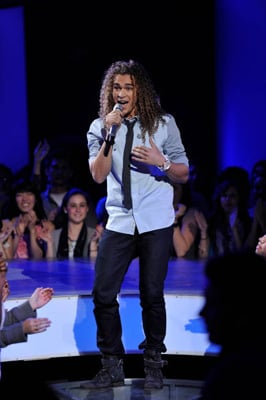 Another week goes by on American Idol, and another hopeful competitor bites the dust. This time it was smooth crooner DeAndre Brackensick, one of Jennifer Lopez's favorite contestants.
It seems his rendition of '80s classic "I Like It" was not enough to save him from elimination, nor was it enough to inspire the judges to use their save on him. Joining him in the bottom three were Hollie Cavanagh and Elise Testone.
Though he was indubitably talented, it felt like DeAndre never found his footing with the fans. Despite his best efforts, he was consistently chosen as the right person to head home in our polls, and having watched all of his performances this season, I have to agree. What do you think, Idol fans, was it his time to go?
Photo courtesy of Fox