Deception TV Show Review
Pilot Scoop: Deception
NBC is rolling out a new primetime soap with Deception, which takes place after the mysterious death of a wealthy socialite named Vivian Bowers. Joanna (Meagan Good) returns back to New York when she hears that her former BFF has mysteriously died. The twist? She's now a cop who is working undercover with the FBI to investigate the family that she grew up with. Check out our review before the show premieres tonight.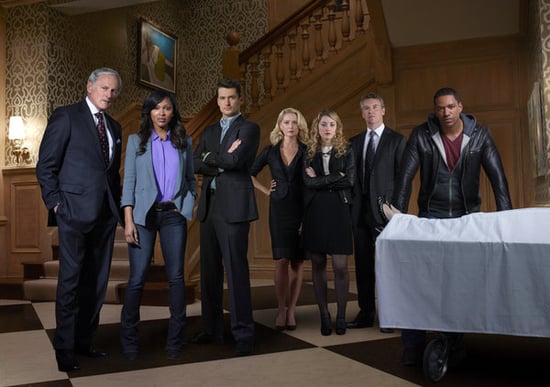 What it's about: Once Joanna returns to New York and becomes involved with the Bowers family again, she quickly becomes privy to a wealth of secrets leading to the murder and learns that none of the family members are what they appear to be. There's Edward (Victor Garber), Vivian's kindhearted but philandering father; Vivan's cold stepmother (Katherine LaNasa); brother Julian (Wes Brown), with whom Joanna used to be involved; big brother Edward (Tate Donovan), who's already been on trial for murder; and teenage sister Mia (Ella Rae Peck), who seems to be following in Vivian's bad-girl path.
Where it works: Good is charming and relatable, which makes her easy to watch and root for, especially in the midst of the Bowers, who are all pretty much (deliciously) repellant. The "poor little rich family" concept has been done before in shows like Gossip Girl, Revenge, and Dirty Sexy Money, but it's still fun to get a peek into the over-the-top lives of the rich and shameless. The pilot is incredibly soapy, but it's also fast-paced, creates suspense, and had me hooked by the end of the episode.
Where it doesn't: The series seems to have a very finite goal in finding out who killed Vivian. If the show gets picked up, I'm not sure how much incentive there will be to watch beyond the murder case.
When it's on: Mondays at 10 p.m. on NBC
You might like this show if: Revenge is getting too convoluted for you.
Watch a preview and see all the pictures for Deception when you read more.