Deception TV Show TCA Interviews
Why New Series Deception Is More Like The Departed Than Revenge
NBC has Deception in its midseason lineup, and it's a new thriller that centers around a female protagonist mixed up with a wealthy family. If that description reminds you of ABC's Revenge at all, you're not alone, and when the cast and creators came to the Winter TCA today, they had the opportunity to clarify how this show is different. Read on for that and what the stars, including Meagan Good and TV veterans Victor Garber and Tate Donovan, had to say about their new series.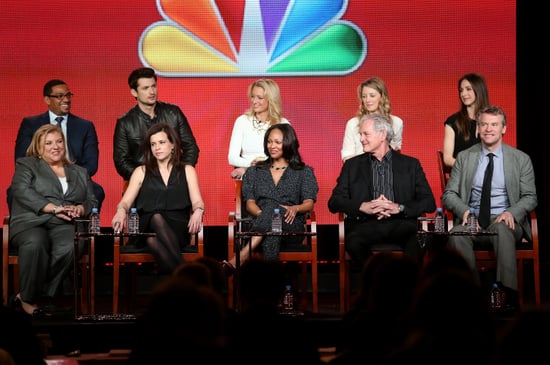 Executive producer Liz Heldens addressed the Revenge comparisons right away and said she wasn't taking a cue from the soapy drama. Rather, Heldens said that two of her favorite movies are Donnie Brasco and The Departed, so she was wondering whether an undercover cop show with a female protagonist would work. Specifically, she wondered, "Could Donnie Brasco and the movie Sabrina have a baby?"
Deception centers around the murder of a wealthy young woman, which her former friend and now-detective Joanna (Good) has to solve. EP Heldens recognized the challenge in building a whole series around one mystery, so she divulged her strategy. In season one, "the plan is to reveal to the audience who the killer is. Joanna will probably have a good idea, and the second season is about proving it."
Good has appeared in countless movies, but this is the first time she's leading her own series, and upon learning she got the role, she admitted that she cried in her car. The showrunners seemed equally pleased with their decision, with Heldens saying that when she auditioned, "Meagan just walked in and owned it. It was just like, boom, she's Joanna."
Garber, who's no stranger to the small screen, gave his seal of approval to the drama. He said that he watched the first three episodes (saying that's something he never does) and was "completely captivated." He also seemed to enjoy playing his character, patriarch Robert Bowers. "I just loved the idea of being someone who has so much going on," and he's just one of many mysterious characters. Of Deception, he promised, "no one is who they seem to be."