The Descendants DVD Release Date and Details
What to Rent: New DVDs This Week
In addition to the following releases, The Adventures of Tintin, Happy Feet Two, and Melancholia are also now available on DVD.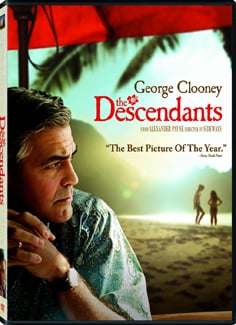 The Descendants
George Clooney stars in this Oscar-winning film as a father who learns his wife has been cheating on him after a boating accident leaves her in a life-threatening coma. Along with his two daughters, he sets out to discover the identity of the man his wife was seeing, while also trying to make a decision to sell his family's Hawaiian property. Clooney turns in yet another masterful performance, while Shailene Woodley has a breakout role as his teenage daughter. The DVD includes deleted scenes, behind-the-scenes extras, and interviews with Clooney and director Alexander Payne.

89%
My Week With Marilyn
This dreamy story is told through the lens of Colin Clark (Eddie Redmayne), a production assistant who quickly falls for Marilyn Monroe while working with her on the set of The Prince and the Showgirl in London. Michelle Williams plays the insecure yet mesmerizing icon, who's constantly seeking support and validation from the various men in her life. The film is not a biopic, yet Williams's Oscar-nominated performance and incredible physical transformation make it a dazzling glimpse into Monroe's personal life. DVD extras include commentary with director Simon Curtis and the featurette "The Untold Story of an American Icon."

84%
One more new release when you
.
Young Adult
Charlize Theron plays Mavis, a grown-up mean girl who returns to her hometown to win back her high school sweetheart, even though he's already happily married with a new baby. Patton Oswalt plays a former classmate and Mavis's drinking buddy who also serves as her voice of reason. Diablo Cody and Jason Reitman (Juno's writer and director, respectively) team again here, but prepare yourself for darker humor and far more awkward moments. Theron's performance is what makes the movie so compelling, even when Mavis is at her worst. The DVD includes deleted scenes, a making-of featurette, and commentary by director Jason Reitman.

81%