Details on NBC's Grimm From Summer TCA
Grimm's Cast and Crew Talk About Their Fractured Fairy Tale Procedural at the Summer TCA
NBC's freshman Grimm took its turn at the Summer TCA and let its actors and showrunners discuss the fairy tale-themed police procedural. The premise follows a detective, Nick (David Giuntoli), who suddenly starts seeing monsters in the faces of humans. He discovers from a relative that he's one in a long line of "Grimms" — descendants of the writers who are tasked with finding and fighting the real-life versions of fairy tale villains. Check out the panel's highlights below for a taste of the upcoming series.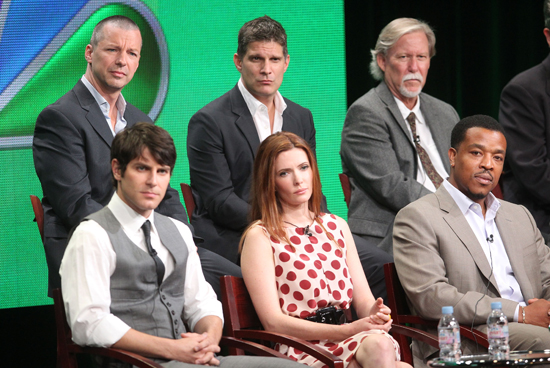 Grimm focuses on a new fairy tale each week and "fractures it," according to exec producer and writer David Greenwalt. So what other fairy tales can we expect to see? Greenwalt mentioned Cinderella, Goldilocks, and The Three Little Wolves (a take on The Three Little Pigs). And though they mentioned that there are over 200 Grimm stories, they won't just stick to tales written by them. Producer Sean Hayes said it'll be "fun education for people about ones that aren't as popular."
Star Giuntoli was ribbed a little bit for being best known for being a contestant on Road Rules, but the actor was grateful for his prior exposure, saying he thinks that "anything that gets you into the line of business you want to pursue is a positive." It seems to have worked out for him, after all; he said he came out here, got some guest star roles and pilots, and then ended up with Grimm, the "best job I could have ever wanted."
The tone of the show is meant to be "dark and scary, but also meant to be fun," according to Greenwalt. To that end, he cited Silas Weir

Mitchell

's character, who's a version of the big bad wolf and "goes to church, does Pilates, and tries to fight his nature."
Read on for some more details about Grimm's TCA pilot.
Actor Hayes is a producer on Grimm, and he was asked how it's been. He said that "the pressure is off when you're not in front of the camera," but that there are other pressures as a producer. He's definitely still dedicated to acting though — he was sporting a shaved head for his recent role in The Three Stooges.
Actress Bitsie Tulloch plays Giuntoli's fiancée on the show, and she was excited that her character's vocation was being changed to veterinarian, because it'll "maybe come in handy with some of the creatures." She also mentioned that she'll be playing with how frightening it would be to have a loved one come home with a story like Nick's: "It makes my skin crawl."
ABC's Once Upon a Time has a similar premise, so the panel was asked why they thought the fairy tale genre was so popular this year. Greenwalt surmised that "everybody enjoys a good bedtime story."