Dexter Season 7 Spoilers
Dexter: 4 Things We Learned About Season 7
Showtime's serial-killer drama Dexter is back for its seventh season Sept. 30, and the cast and showrunners came to the TCA this week to talk about its return. Stars Michael C. Hall and Jennifer Carpenter, who play adoptive siblings Dexter and Deb, and their latest guest star, Chuck's Yvonne Strahovski, talked about the changes we'll see now that Deb knows the truth about Dexter. We also learned about Strahovski's character, so read on to find out about that and what else we can look forward to in season seven — which will probably be the next to last.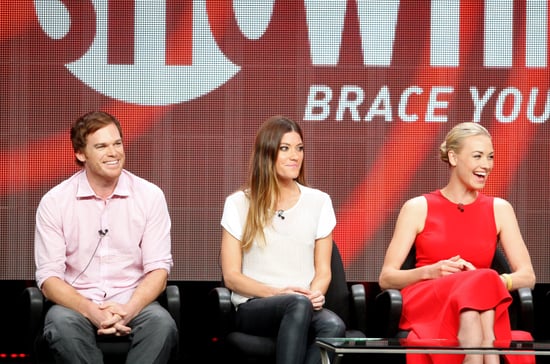 The outcome of Deb finding out about Dexter's secret will be huge. In the season six finale, Deb walks in on Dexter in an awkward moment: right in the middle of his latest kill. Now that she knows his secret, Hall says it's a game-changer: "One of the things we've always been able to count on [is that] Dexter's secret is his own, and it's not anymore." Obviously Deb will struggle with what to do now that she knows her brother is a murderer, because even though she knows what Dexter has done is wrong and she's a police officer, Deb "was already trapped in this web of acceptance for him."
Yvonne Strahovski's character has some secrets. Strahovski plays Hannah McKay, a woman who meets Dexter when she's helping the Miami Police. And as expected, she'll be quite mysterious: Strahovski said Hannah "has a dark past that is slowly revealed."
It's gonna be a good one. Hall compared this season to the two seasons of Dexter that he considers the best: season one and season four (which featured John Lithgow as the Trinity Killer). "This season feels as genuinely informed by everything that's come before." He remarked on a feeling of "arrival," while Carpenter also jumped in to say "Can I add 'dangerous'? It's very dangerous this year."
Deb may be in danger. Given that Dexter has certain urges and a dilemma on his hands with his sister knowing what he's done, Deb could be Dexter's latest victim. Exec producer Scott Buck made it sound like it's not out of the question. "Dexter's a serial killer. The thought has to at least have crossed his mind that it would be an easy solution to this whole problem."