Dexter Stars Jennifer Carpenter and James Remar Interview About Season Five at 2010 Comic-Con
Exclusive Interview: Dexter's Jennifer Carpenter and James Remar Spill Season 5 Secrets!
I'm running on a Dexter high — not only is the season five trailer a bundle of intensity, but I also had the chance to chat with stars Jennifer Carpenter and James Remar at Comic-Con this past weekend along with a few other reporters. The two actors dished on what we can expect from their characters this season and what impact they'll have on TV's most charming serial killer.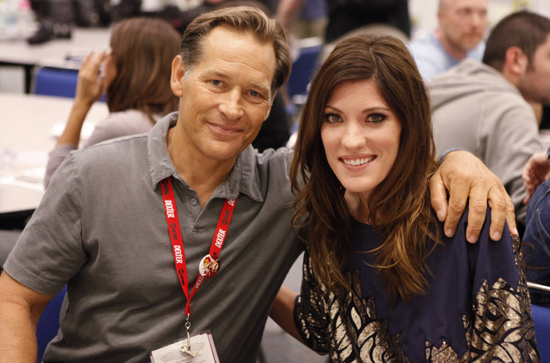 Is Deb getting closer to figuring out Dexter's secret?
Jennifer Carpenter: It's interesting because we pick up right where we left off. His grief looks nothing like Deborah's grief. I can't help but play that there's something wrong with that. That just sort of happened; I don't feel like the writers were layering it in; that's what happened, that's how I felt. The suspicions are all there, the instinct is there — she has to have incredible instinct to do what she does. I think she fuses the pieces together so that she learns her brother is a serial killer. But I'm ready for her to find out. I'm ready to play that scene, whatever it looks like. I'm going to start stretching now so I'm ready. I don't want to pull anything.
To read the rest of the interview, including James Remar's input, just
.
Is Deb's maternal instinct going to kick in so she can help out Dexter with the kids?
JC: It hasn't kicked in yet. We actually had an opportunity to spend some time with the babies that we're working with this year so they wouldn't cry every time they put them in our arms, and I didn't want to get good at holding them. I feel like it should be awkward. That's not where she is. She bleeds blue; she's a cop, she's not ready to settle down into anything. She wants to get a little more dangerous.
Will we get to see more of Deb's vulnerability?
JC: Last year, [with] Keith Carradine, his line where he says "You're confused and now you're not, and we'll figure it out together" was the first time I'd ever heard someone say on the show, "I want to help you." And then immediately he's dead. So that one line helped me play seven episodes, and I think about it now and I could cry my eyes out. But this year I feel like it's about standing up straight, being mature, choosing your words, how you enter a room. She's really not so much editing herself, but calculating, working like more of a cop. [She has] a little less of a potty mouth.
What will Dexter and Deb's relationship be like this season?
JC: The thing about the show for me is, I do a lot of talking at Dexter when I think I'm doing a lot of talking with Dexter, and he comes back with "uh huhs" and fancy looks, so I think something that maybe a lot of people — maybe a lot of women — are guilty of doing is, we write our own story and fill in those blanks of whatever we think is supposed to be happening. I think there's a lot of that, so she thinks she's being understood and really, he's thinking about a kill.
Will we see another love interest for Deb?
JC: I feel like every year I've had a love interest and now, the love that I was interested in, died when Lundy died. So is she looking for a fix, is she looking to take the ghosts off? Yeah. There will be that. But I don't think she's as worried about making mistakes. What does she have to lose, really?
Will we meet Harry's mistress?
James Remar: Oh my God, I think Harry had several, is the common idea. But actually all of the women that Deborah investigates — potential Harry mistresses — all turn out to not have been his mistress. The only one I think that's confirmed is Dexter's dead mom. Sometimes it seems like Harry's a lot more of a prince than they think he is. It goes back and forth.
What sort of Harry and Dexter scenes can we expect this season?
JR: So far we've shot a couple of very touching and beautiful ones because Dexter is really quite pent up after the loss of Rita, and Harry appears at a time when he really needs him. We've got to get back online here. Because [Dexter's] so filled with uncertainty that getting back on the code is a very important thing for him because it helps him get reorganized. The disorganized serial killer is one that ends up getting caught. Harry taught him the first rule is to never get caught — if he never gets caught then he can continue doing what he does.