Diane Kruger's Asperger's Prep For The Bridge
There's a Reason Why Diane Kruger's The Bridge Character Is Similar to Homeland's Carrie
The Bridge has already aired its first few episodes, and the FX drama deservedly got the spotlight at the Summer TCA. The buzzy new show starring Diane Kruger and Demián Bichir set on the border of Mexico and the US got lots of questions about how Kruger prepped for her role as Sonya, a detective with Asperger syndrome. Kruger talked about her technical adviser, and if she reminds you of Homeland's Carrie at all, there is a reason for that. Kruger and Bichir also talked about their mutual admiration for each other and how soon the season's current mystery will be solved.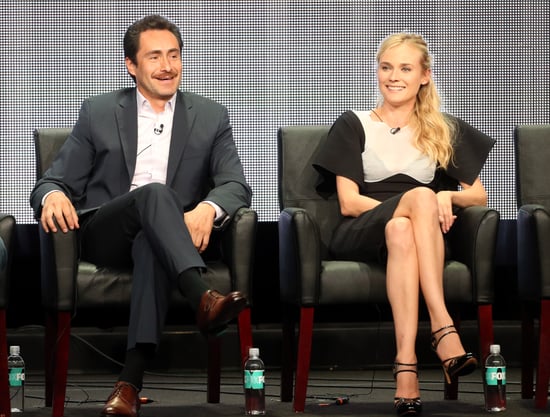 Kruger's character, Sonya, has Asperger's, and in watching the show, you might think that she bears a resemblance to Carrie on Homeland, who suffers from bipolar disorder. It's not totally coincidence, because The Bridge executive producer Meredith Stiehm also worked on Homeland, and she specifically helped form Carrie's character. Stiehm admitted that "Carrie and Sonya are kind of alike in that they are lone wolves in their world and they're struggling on a personal level."
To play autistic character Sonya, Kruger said she studied Asperger's, but the biggest help came from her technical adviser Alex Plank, who has Asperger's. Kruger joked that she feels like she spends more time with Plank than her friends and family now, and she praised him for giving her a better understanding of the syndrome. He let her "ask really uncomfortable questions that overwhelmed him at times," though Kruger admits that her portrayal "can't be 100 percent accurate, because how could I?" But with Plank on her side and in the writer's room, "I feel like he watches out for that community."
Bichir plays Marco Ruiz, a Mexican detective who works with Sonya, and he spoke warmly of costarring with Kruger. Apparently they were supposed to have collaborated on a movie previously, and after it didn't happen, he got the call about The Bridge, "and then they brought in Diane's name, and I thought, 'wow, it was meant to happen.'" Exec producers Stiehm and

Elwood

Reid added that Kruger and Bichir were the first choices, and while Kruger "played hard to get," Bichir called them and said "I'm in."
Don't worry about The Bridge following in the steps of The Killing; the central mystery will wrap up "even before the end" of the season, according to Reid. "We will solve that crime and put it away in a very dramatic fashion," but they won't just move on to another new crime. "There won't be one big crime. We're not going to have a serial killer of the season," Reid professed.