Diego Boneta Rock of Ages Interview
Diego Boneta Took Music Tips From Rock of Ages Costar Tom Cruise
Diego Boneta has a major role in the upcoming Rock of Ages, which is out June 15. We visited the Miami set last August, and got the scoop on Julianne Hough's bikini and style secrets from the '80s period piece. Diego, a relative newcomer to Hollywood, also gave some insight about the project. He was excited to work with one of his acting idols, Tom Cruise, who proved to be an impressive mentor on the set. Diego spoke about jamming with Tom, as well as why he thinks everyone will love Rock of Ages. Diego said: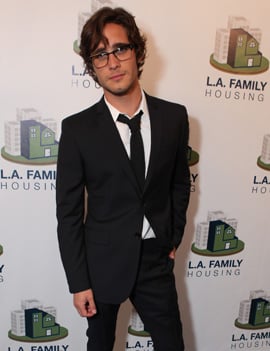 On his background: "I started out singing and I've released two albums in Latin America and Brazil. All my influences basically are the bands that wrote the songs that I'm singing in the movie. Ever since I was a kid the music that my parents played was all '80s music from U2 to Police to Rolling Stones, and I liked it so much that I started to listen to more '80s bands growing up."
On why everyone will love this movie: "I think the music is no. 1. Do you guys like Journey and Foreigner and Def Leppard and Twisted Sister? I love 'em. I think that will be something that will attract people to watch the movie. There's also a lot of hot girls in it, which hopefully will help too. Julianne looks beautiful, and Mary J. and Catherine. I hope that this is a musical for everyone. Guys, straight guys, not straight guys, girls of all ages, guys of all ages."
On meeting and working with Tom: "Tom Cruise really inspired me a lot. It's the first time he's ever done a musical and just seeing the way that he prepared for this. . . All the preparation he did and all of the rehearsals he did vocally, choreography, guitar-wise was really inspiring because the second he got to the stage he lost fear and committed 100% and connected to an audience. It was a rock concert. It was. Me being a performer, me being a singer, I got chills every single take."
To read what else Diego said about the movie and Tom, just read more.
On learning to play guitar alongside Tom: "Tom and I shared the same [vocal] coach. We got to the point where we were like, 'Let's just take guitar lessons together!' So we were jamming together — he does the solos because he's the rock star with the solos, and I do more of like the rhythmic guitar. So he'd be doing the solo and we'd be singing together "Every Rose Has Its Thorn." Two months before this movie, I was watching Risky Business with my siblings and I was thinking, 'Dammit if I could only find a script like this to do a great movie like this and launch my acting career.' And two months later, not only am I acting with Tom, I'm jamming with him!"
On loving the music: "I think all of these songs are timeless. I was singing "Don't Stop Believin" before Glee came out and there was someone singing it before me too. These songs are timeless and that's what makes this movie so special. Both acting and singing are great artistic ways to communicate stuff to people. And in this movie we have both with great actors and amazing songs. So it's the perfect combination."
On seeing the stage production of Rock of Ages: "I told Adam when I met him that I hadn't watched the show and he said, 'Perfect, I don't want you to be influenced by the musical.' And one of the first things I will probably do after I finish shooting is go watch the musical."