Divergent Author Interview
Divergent Author Veronica Roth Says "All the Pressing Questions That You Have Will Be Answered" in Allegiant
It's no secret that young-adult book series are having a pretty big moment right now, like Veronica Roth's Divergent, which is one of the most hotly anticipated movie adaptations of 2014, and the third novel in the book trilogy, Allegiant, comes out next week. The story is set in a postapocalyptic Chicago, where society is divided into different groups called factions based on character traits (like Dauntless, Candor, and Erudite). Roth wrote the books while she was a student at Northwestern University. Naturally, watching her books grow in fandom and exposure has changed her life. I chatted with the author about the genesis of Divergent, her experience on the set of the film, and what we can expect from the final novel in the series.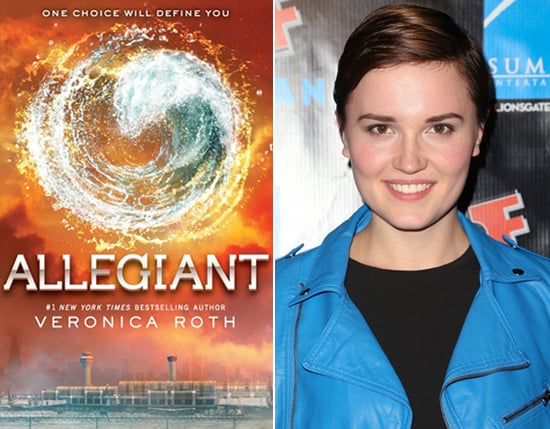 POPSUGAR: What's this whole experience been like for you, from writing Divergent in college to seeing it get made into a movie?
Veronica Roth: It's been amazing. It's obviously not what I was expecting when I was in my rubber ducky pajamas writing this first book on Winter break. It's been definitely kind of transformative. It's definitely changed me as a writer, and it's been really exciting.
PS: When it comes to casting the movie and writing the screenplay, how hard is it to pass off your work to someone else?
VR: I think I was prepared for the difficulty of it. Obviously, it's always a challenge to give up the reins and let someone else take over, but I was also just so excited to see how other people would interpret the story and the world that every time I read a script or I saw the ideas that they were putting together for the movie, it was just really exciting, and kind of gave me a new perspective on what the world might look like or what the story could've been if I had written it a different way. It was really interesting and far more positive than I had originally anticipated.
PS: Which casting do you think is the most spot-on?
VR: That's a good question. I think it's kind of a tie, and they did an incredible job on the leads. When I saw Shailene [Woodley] as Tris for the first time, I was like, "Yup! There it is. It's perfect." Even though she's not a tiny blond girl, I think she does a great job with it. And Theo James as Four, he looks just right and he acted just right. They've done a great job with those leads.
PS: Have you had a chance to visit the set?
VR: I did! It was really amazing. I walked in and I was speechless for about two hours. And they kept trying to introduce me to people, and I would just stare at them because I was so stunned. It was really incredible to see the world realized in such great detail.
PS: Did any of the actors want to pick your brain about their characters?
VR: A few of them were really interested in my analysis. I think it depends on the character; some of them are straightforward, but others, like Peter [played by Miles Teller], for example, are a little harder to understand, and I think they wanted to get a better grasp. And obviously I'm happy to talk that through with them. It's kind of a weird, surreal experience to do that.
To see which scenes Roth is most excited about and how she feels about The Hunger Games, just read more.
PS: What scenes from the novel are you most looking forward to seeing on the big screen?
VR: Right now I'm most excited about anything involving that ferris wheel. And anything with action and stunts I'm really interested in because I've never seen movies being filmed before, so that will be such an interesting way to learn about the process.
PS: Personally I can't wait to see how The Pit looks.
VR: I can't wait for people to see what I saw [on the set]. It was awesome!
PS: What do you make of the comparisons made between Divergent and The Hunger Games?
VR: The comparison is extremely flattering. I'm a fan of The Hunger Games, and I have been eagerly anticipating the next movie. If you're going to be compared to something, it's not a terrible thing to be compared to. If I could have even a fraction of that readership and support, I'll consider myself pretty lucky.
PS: Do you feel like the success of that series and the movie has helped pave the way for Divergent?
VR: I think movie series like Harry Potter, The Hunger Games, and Twilight have really created this really intense and enthusiastic young-adult audience who are eager to read teen books and to see them realized on the screen, so definitely those movies have been really significant in creating a way for my books to become movies and for a lot of upcoming adaptations to become movies.
PS: Where did the idea for Divergent come from originally?
VR: It was kind of a lot of places at once, but I was enrolled in Psych 101 my first year of college, and I learned about exposure therapy, which is when they treat people with fear, like for anxiety. It exposes them repeatedly to what they're afraid of, and gradually you become less afraid of it, or have a healthy level of fear, and I thought of the Dauntless then, because they're conditioning perfectly normal people to get over perfectly rational fears. That's kind of where it came from, and everything else built on top of it.
PS: When you were originally coming up with the factions, were there any others that didn't make the final cut?
VR: Not really. Actually, the number of factions grew more than it diminished. The last one to be added was Candor. It was just because I felt like there was kind of a gap in the reasoning behind the world that needed to be filled.
PS: Did you always know that you wanted to set the story in Chicago?
VR: I didn't, but I wrote the rough draft and I felt like it needed a more grounded sense of place, and I looked at the city I had described, which is all these trains constantly moving, and this lake marsh, and these rivers. And I realized that it was Chicago already, and it was just because that's the city I've known and loved the longest.
PS: Can you tease anything about the third book, Allegiant?
VR: This is such a hard question! It definitely picks up right where the second one leaves off, and all the pressing questions that you have will be answered. I think that's the most I can say, probably.