Divergent Trailer
Watch the First Divergent Trailer!
The trailer for the adaptation of futuristic young adult novel Divergent is here! Shailene Woodley stars as Tris, a teenage girl who has to choose a "faction" in a dystopian US, but she discovers that she's actually classified as divergent, meaning she doesn't fit into any faction — and can't be controlled, which makes her a danger in the eyes of the controlling faction Erudite, the leader of which is played by Kate Winslet. To stay undetected, Tris picks the Dauntless faction, and the trailer gives us a look at the death-defying acts that she and her fellow initiates endure, like jumping off trains and other stunts from the book, like Tris's and Four's (Theo James) Ferris wheel climb.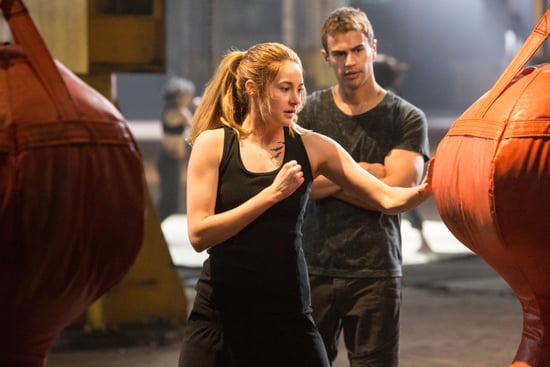 Whether you've read the book or not, the trailer looks pretty incredible — and so does Tris's tough love interest, Four, whom we see her share a hot kiss with. I'm also excited to see that Winslet's role has been expanded for the movie — it's just one of the things I'm looking forward to in this adaptation. Divergent comes out March 21 of next year, but you can watch the trailer now after the jump.