Django Unchained Trailer
Django Unchained Trailer: Tarantino Pits Jamie Foxx Against Leonardo DiCaprio
Quentin Tarantino doesn't seem like the most likely director to take on a Western, but in the trailer for Django Unchained, it's clear that this movie is no traditional Western. Sure, everything seems conventional when we meet Django (Jamie Foxx), trudging in chains while a mournful Johnny Cash tune plays. But when he's recruited by bounty hunter Dr. King Schultz (Christoph Waltz) to help find outlaws, things get decidedly Tarantinian. Cue the soul music as Schultz and Django's journey leads them to plantation owner Calvin Candie, who's played by a curly-haired, Southern-drawling Leonardo DiCaprio.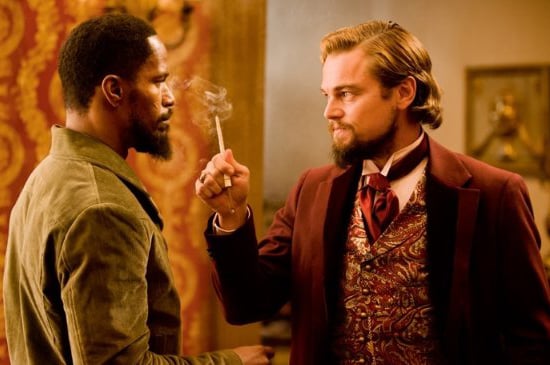 DiCaprio is pretty cartoonish as what we suspect is the movie's villain, and his performance is my main reason for wanting to see this movie — which is saying a lot since I love Tarantino's work. I don't know whether this will top his last effort, the incredible Inglourious Basterds, but I'm excited to find out when the movie comes out on Christmas day. Watch the trailer and let me know what you think after the jump.
Photo courtesy of The Weinstein Co.