Do No Harm TV Show TCA Interviews
Do No Harm's Showrunner Says It's "House Meets Dexter"
NBC has a two-faced new star in Steven Pasquale, who leads the new midseason drama Do No Harm as Jason and Ian, two identities in one body fighting for dominance. Pasquale, his costars, and his showrunner came to the TCA to talk about their Jekyll-and-Hyde procedural, including Pasquale's unusual ways of staying in character, and the famous TV alum they're excited to have in the cast.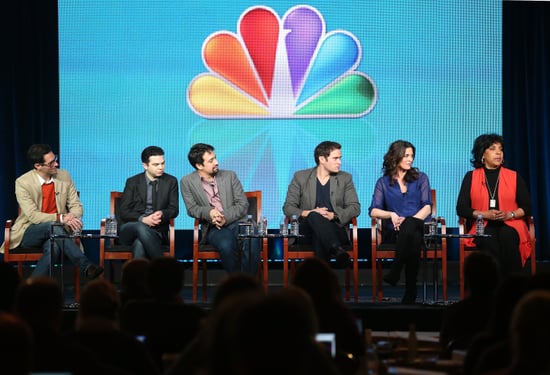 The character of Jason/Ian is afflicted by a fictional condition loosely based on dissociative identity disorder, and the show is also loosely based on classic novel The Strange Case of Dr. Jekyll and Mr. Hyde, but Do No Harm has "a lot more layers than just good vs. evil," said executive producer David Schulner. He said he pitched it as "House meets Dexter," because of the medical angle, and Jason is the "good" side, while Ian is the "bad" side. "Ian is truly menacing, so Jason's character needs to get rid of him," Schulman said.
Pasquale has a funny on-set setup: two chairs, one for when he's playing Ian, and one for when he's playing Jason, which display each of the names. The character of Jason is also a doctor, and when Pasquale was asked if he's partial to playing Ian or Jason, he exuberantly replied, "Of course! Ian doesn't have to say any of that medical sh*t. Neurosurgery is no joke!"
Phylicia Rashad is on the cast as Jason's boss, but of course, her most famous role is as Clair Huxtable on The Cosby Show. She worked it into her current job, giving it the highest of praise. Of Do No Harm, she said, "This is special for me, because I was with the best of the best, and now I feel like I'm with the best of the best again." Cutely, her costar Pasquale added, "By the way, it was pretty exciting to come to the first day and see Mrs. Huxtable."