The To Do List Review
4 Reasons You Shouldn't Miss The To Do List
Aubrey Plaza stars in The To Do List as overachieving Type-A teen Brandy Klark, who's used to being the best at everything — except for sexual experience. Afraid of being branded a loser at college, Brandy makes herself a list of sexual goals to complete over one crazy Summer, which takes place in the early '90s. If the premise has you intrigued, then let me tell you why you should add this comedy to your own to-do list.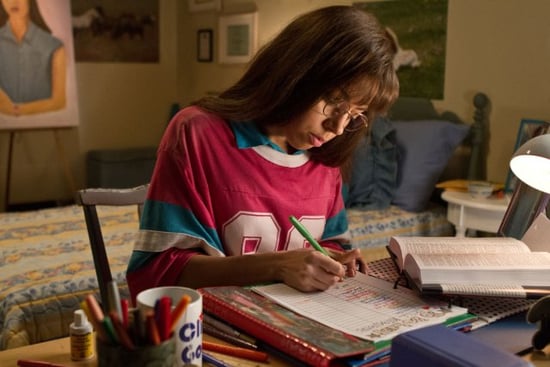 It's Riotously Funny
If American Pie and Bridesmaids had a baby, then it would be this movie. The sex jokes are funny without being too gross (well, with a couple notable but still funny exceptions), and sex also isn't the only source of humor. There are awkward teenager jokes, tons of laughs in the scenes of Brandy interacting with her family (played by Clark Gregg, Connie Britton, and Rachel Bilson), and the thing that never stops being funny: the '90s. Which brings me to my next point . . .
The '90s Setting
The '90s time period is the perfect extra touch. The fashion makes you cringe, the dance moves and spot-on pop-culture references make you nostalgic, and even the home decor looks accurate. The funniest '90s element might be all the jokes about technology, though — remember when the TV had to be on channel three to play a tape? The To Do List is filled with these immaculate details.
The Cast Is Entirely Funny, Familiar Faces
Plaza is an ideal frontwoman — her delivery is hilarious, and it's nice to see her break out of her character on Parks and Recreation. She's far from the only one in the cast with TV cred, though; to name a few, we have Hart of Dixie's Scott Porter and Bilson, Community's Donald Glover, Happy Endings' Adam Pally, and former Saturday Night Live cast members Bill Hader and Andy Samberg. Not only is it like playing Spot the TV star, but also, they're all so much fun. You expect comedians like Samberg and Hader to be funny, but it's even better to hear Bilson cracking dirty jokes with the best of them.
The Supersick Soundtrack
I expected a pretty good soundtrack for a '90s-set movie, but The To Do List outdoes itself with the music. There are the songs that are beyond fitting for the subject matter, like 2 Live Crew's "Me So Horny" and Salt-n-Pepa's "Let's Talk About Sex," but there are also more obscure tracks from bands like Elastica and Pavement to add to the setting.