Don Jon Review
Don Jon: A Lot of Porn With a Lot of Heart
Joseph Gordon-Levitt has a Jersey accent and a penchant for porn in his surprisingly touching directorial debut, Don Jon. Pornography addiction isn't exactly the stuff romantic comedies are made of, but that just makes Don Jon's charm all the more impressive. A beefed-up Gordon-Levitt (who also wrote the screenplay) stars as Jon, nicknamed "Don Jon" for his ladies' man status. He really only cares about a handful of things in life: his family, the gym, and porn. He gets struck by love when he meets the voluptuous Barbara (Scarlett Johansson), taking a leave from seducing the locals to become a one-woman man — until Barbara finds out about his little obsession. Of course, the audience already knows all about it, thanks to a barrage of porn flashing on screen. Though the constant graphic images are overwhelming, eventually they dwindle, giving way to some tender, genuine moments.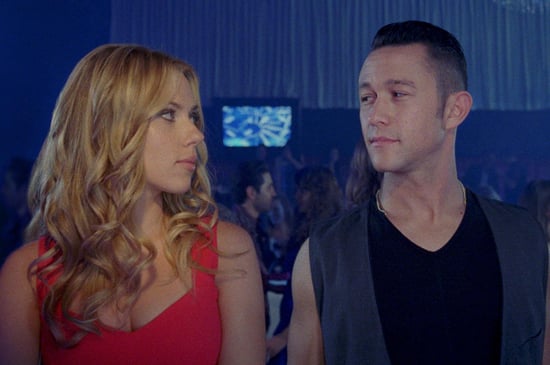 Jon's schedule rotates between the gym, church, and the club, but Gordon-Levitt's best scenes are when Jon is at home with his family. He's constantly getting guilt trips from his mother (Glenne Headly) for not giving her any grandchildren, and his look-alike father (a fantastically entertaining Tony Danza) could not care less about his son's love life until Jon brings the buxom Barbara home. The painfully realistic way Jon's onscreen family behaves is a credit to Gordon-Levitt's cleverly crafted dialogue, and his effort to find the ideal actors to fill the parts. Julianne Moore also adds an unexpected touch to the film in a small part as a mysterious and eccentric classmate of Jon's. Find out more of my thoughts on Don Jon after the jump.
Barbara initially catches Jon's eye because of her perfect measurements, but she's the first woman to keep him on his toes because she's smart, and Johansson is utterly believable. Barbara's got a fixation of her own: romantic comedies. The movie suggests that there are similarities between the fantasy of porn and the escapism of romantic comedy movies, and I would have liked to see Gordon-Levitt go even further, juxtaposing how the two affect modern ideas of what a relationship should be. Instead, he only scratches the surface of the comparison.
Gordon-Levitt has been giving us great performances for years, and Don Jon is a fresh and bold first feature from the new director. There's definitely room to grow, as the tightly controlled film does get a little monotonous (we get it, he's got a routine). But it's enjoyable, and possibly the most fun movie ever made about porn addiction — just don't take your grandmother.