Donald Glover Interview About Community, Rapping Career, and Spider-Man Costume
Community's Donald Glover Talks Troy, Rapping, and Dream Guest Stars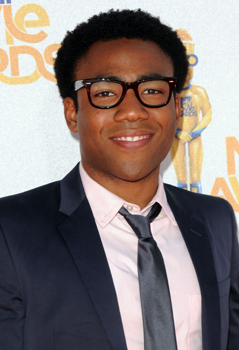 The ensemble cast of under appreciated NBC comedy Community is full of hilarious people, but my personal favorite is Donald Glover, who plays Troy, (one half of TV's most entertaining bromance). Glover is something of an entertainment renaissance man — before Community, he was a writer for 30 Rock, and now he also moonlights as a rapper and stand-up comedian. The multi-talent hopped on the phone with a few reporters to talk about the show, tonight's Apollo 13-themed episode, and his plans for Halloween.
How did the Apollo 13 episode come about?
Donald Glover: I think before the season had even started they were sitting there and the big question was, how [are] we going to beat the paintball episode? Everybody loved the paintball episode. . . . You know, that was the joke, like send the Community cast to space. And then Dan (Harmon, the show creator) being the genius that he is, was like yes, we'll send them to space, and works out a way to send them to space, which is really cool. It's really cool, and we're kind of in space, and it's really beautiful that we're allowed to do that.
Will you be rapping again on Community?
DG: I like rapping; I have an album out, I put out a mix tape that lots of people like. I'm going on tour actually, this weekend with Mayer Hawthorne. And yes, I rap a lot. If they want to have me rap on the show it's fine. Although sometimes it's a little weird, just because when people find out I really do do music they'll be like oh yes, I know "Donde Esta La Biblioteca." It's hard to get them to get that out of their minds. Because a lot of people were like yes, that album was really good. When you going to have Abed on one of the tracks? And I'm like, Danny doesn't really rap. He raps in Polish and he's actually really good.
Are you as close to Danny Pudi as your characters are on the show?
DG: Well we're close. I mean, Danny has a wife so it'd be weird if I was hanging out at their house all the time or something like that. It's not a What About Bob situation. But we are good friends. We're very good friends. We hang out a lot and we chill.
Find out the cast member who cracks Donald up most, plus his Halloween costume plan when you read more.
Who's the funniest person on set, besides you?
DG: I mean, if I got to say who cracks me up the most, it'd be a tie between Joel and Alison. Like Joel's funny, he's so quick, like he is on The Soup and the way he is on the show. He's just really funny and quick with like specifics and it makes me giggle. But Alison's so funny. Alison does an impression of me that really makes me laugh. She does an impression of me doing stand up.
Who is your dream guest star?
DG: I would love Zach Galifianakis to be on the show. I love him. I think he's hysterical.
How is it working with comedy legend Chevy Chase?
DG: Working with Chevy Chase is like working with like your grandpa, like your funny wisecracking grandpa, because he's really funny. A perfect example would be that he once was like, I can't check my email, because we were saying that all the scripts are sent to you by email. Why didn't you read it? And he was like, "I can't read it. My email's in New York." And that's a true story. He said that.
What do you like most about Troy?
DG: The thing I like about the character the most is that he's young and he's really learning a lot. So I get to relearn a whole bunch of stuff. I get to enjoy things for the first time again. And also, he's a jock but he's learning; he's very sensitive. That's been shown again and again, — he cries at the drop of a hat. I like the fact that we're showing somebody who's supposed to be extremely masculine, [but has] a very sensitive side. Because I'm not very good at being extremely butch. I guess me personally, I'm pretty sensitive.
Are you dressing up for Halloween?
DG: I kind of am. Every year what I do is try and find something cool at the last moment. Last year I was Kanye and it was perfect, because all you had to do was wear a suit and get those weird glasses and it was awesome. . . you know, and then just be an a**hole to everybody. It was great. This year I don't really have anything that I really want to be . . . other than, I might dress up as Spider-Man and then at the end of the night, take off my mask and be like ah ha, see I could have done it! That's my one idea.
Are you worried that Community's ratings aren't super high?
DG: I think depending on who you ask they might be worried about that. But in general most of us don't really care. You know, if you make a delicious, delicious cake and it's awesome and the crust is perfect and the icing is — like everything about it is really delicious — I mean, I know cakes shouldn't have crust, but this is a special cake. A special cake with crust and sprinkles and it's delicious, and only two people eat it and they love it. That's enough for me.
What's your favorite thing about doing the show?
DG: The show's just a good show. It's good work. It's very hard. I'm so lucky to be doing something I really, really like. That never really happens. I feel like I'm literally the luckiest person in the world because I got to work for 30 Rock and this show. Like how many people get to write for one of the best shows and then work as an actor on one of the best shows? It's just I'm very lucky to be on a show that's not only fulfilling, but just enjoyable, and something I would want to watch, and I'll be proud to show my kids and whatever.