Don't Trust the B in Apartment 23 TV Show Info
Pilot Scoop: Don't Trust the B---- in Apartment 23
Don't Trust the B---- in Apartment 23, premiering tonight, is a latecomer to the midseason TV schedule, but it's got a promising cast (especially if you love '90s TV). Starring Krysten Ritter as the titular "B," the show follows her and her new roommate, small-town June (Dreama Walker), who's just moved to New York City. The cast also features James Van Der Beek, who's playing a version of himself who's single, self-obsessed, and very into his Dawson's Creek groupies. To find out if this is a show you might want to add to your DVR, just read on.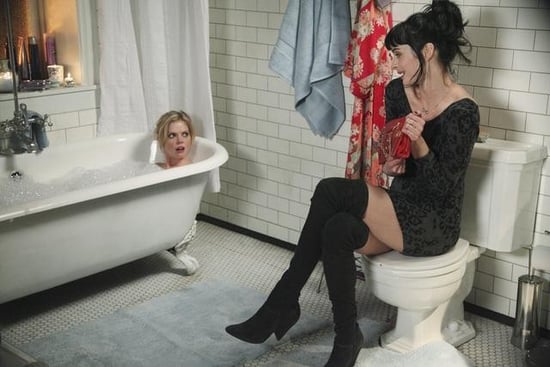 What it's about: When fresh-faced, trusting June moves to NYC, she thinks she finds the perfect roommate in Chloe, until she moves in and Chloe shows her true colors. Chloe is basically the worst roommate ever, partial to spending June's half of the rent money on herself and sleeping with June's fiancé. But Chloe's not all bad; we learn some of the reasons for her motivations in the pilot, and she and June (very slowly) start to get along.
Where it works: The pilot is pretty funny, with some fresh jokes and interesting characters; the non-James Van Der Beek James Van Der Beek is endlessly hilarious to me as a longtime Dawson's Creek fan, and I also appreciate that Chloe isn't totally one-dimensional and that she does have a heart beating under there.
Where it doesn't: I'm wondering how much mileage the show has with Chloe's behavior, especially since she shows that she's not completely terrible in the pilot. My other concern is that June seems to have more of the spotlight than Chloe, and though Walker is charming, Ritter is far more compelling.
When it's on: Wednesdays at 9:30 p.m. on ABC
You might like this show if: You've seen Ritter in one of her many supporting roles and have always wanted to see more from her.
To see some photos and watch a preview for Don't Trust the B---- in Apartment 23, just keep reading.