Don't Trust the B in Apartment 23 TV Show Interview at TCA
James Van Der Beek Talks About Making Fun of Dawson's Creek on Don't Trust the B---- in Apartment 23
ABC's new series Don't Trust the B---- in Apartment 23 is an irreverent series, from the title to the inclusion of a supporting character James Van Der Beek . . . played by James Van Der Beek. The former teen heartthrob hit the Winter TCA stage with fellow stars Krysten Ritter, who plays the titular "B----" Chloe, and Dreama Walker, who plays her innocent roommate June, to talk about the show. They joined showrunners to chat about Van Der Beek's Dawson's Creek past and just how terrible Ritter's character Chloe is going to be.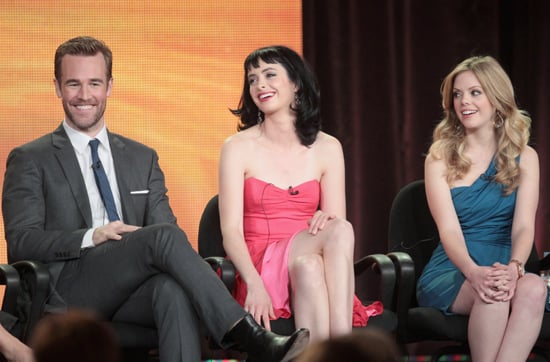 Van Der Beek plays himself on the show, but the character is only a version of himself, and he mentioned that "by episode three, it resembled me less and less." He joked that he had to audition against "six other James Van Der Beeks, and four of them were not actors, and two of them didn't speak English." Van Der Beek described the James of the show as "just kind of crazy," and "really sweet but completely narcissistic."
As for the amount of Dawson's Creek references on the show, Van Der Beek was asked when it became OK to make fun of the teen soap for him. "I think once the residual money ran out," he joked. His character on the show exploits the Dawson's Creek mythology to sleep with fans, often with the famous flannel shirts Dawson used to wear. Naturally, reporters wondered whether Van Der Beek had actually held onto any flannels from the show, and he said he didn't, unfortunately.
Ritter's character Chloe is the "b*tch" in Apartment 23, and she calls the role "absolute candy." Though Chloe can be mean, Ritter says she simply "gets to say things that everybody wishes they could say," and is someone who is bold, badass, and unapologetic. In the pilot, we do get to see a bit of Chloe's nice side, but show creator Nahnatchka Khan said that "hopefully you'll always be surprised and a little bit shocked" by Chloe.
Walker plays June, a young woman from the Midwest who comes to New York and moves in with Chloe. Though June seems a bit naive, Walker says she's "a smart girl," who "sometimes tries to be a little bit of a badass and that doesn't fare so well." During the panel, Van Der Beek had a lot of fun teasing Walker for not being old enough to have been a fan of Dawson's Creek, while Walker protested that she was "not too young!" (Walker is 25). Walker insisted that she did remember seeing a calendar with Van Der Beek's face on it when she was in sixth grade, and thinking it was "very upsetting" that no boys she knew looked like him.