Drew Barrymore and John Krasinski Big Miracle Interview
Big Miracle Set Visit: Drew Barrymore and John Krasinski on Not Freezing to Death in Alaska and Their "Once in a Lifetime" Gig
Drew Barrymore and John Krasinski braved the Arctic temperatures of Alaska for their new movie, Big Miracle. Barrymore, Krasinski, and their costars weren't the only ones who experienced the frosty temperatures up north, though. I visited the icy set last year during filming, where I chatted with the cast (which also includes Kristen Bell, Ted Danson, and Dermot Mulroney), watched a scene being shot against the gorgeous Alaskan backdrop, and sampled the most delicious hot chocolate I've ever had.
The film (formerly titled Everybody Loves Whales) is based on the sensational true story of three California whales that were trapped in the Arctic Circle in 1988, and how the event went from being a local news report to a national effort to set them free. Leading the charge is Adam (Krasinski), a struggling reporter who thinks he's hit the big time when he initially discovers the whales. In no time, his activist ex girlfriend Rachel (Barrymore) heads to Alaska to lend a hand and make her voice heard. It all snowballs from there (pun intended), and eventually the cause spans from the residents of Barrow, AK all the way to the White House.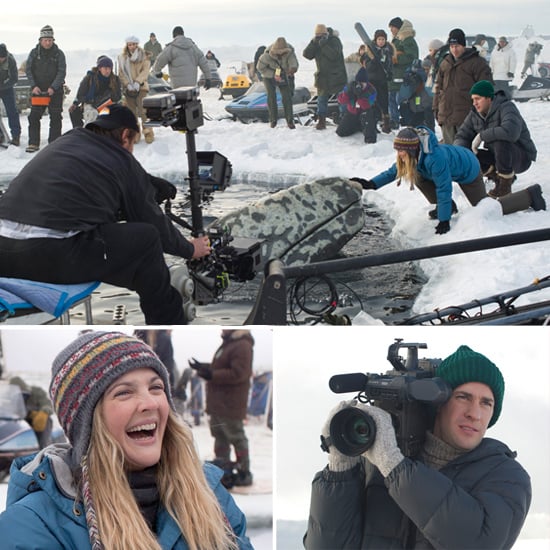 The cast joked about their dependence on disposable hand and feet warmers (or "hotties" as Barrymore prefers to call them), talked about why they loved the interconnecting storylines (you can just think of this movie as the Love Actually of the whale genre), but more than anything else, they seemed to genuinely love their fellow cast members. Here's what Krasinski and Barrymore had to say about making the film:
What drew you to the role?
John Krasinski: For me, the opportunity to play a whale is a once in a lifetime gig. And to actually play a human and a whale at the same time. . .No, I was immediately drawn to the project. First because of Drew, I knew that Drew was going to be a part of it and I have always wanted to work with her in a very, very, very major way. When you read the script it's one of those movies that hits this pocket of very unique and special project. There's a little bit of romance, little bit of comedy, little bit of drama, and it doesn't really fit into any certain realm that people are used to. And in doing that, it becomes this amalgam of really, really special story telling. And the fact that all of it's true is incredible. I was just blown away by a bunch of people coming together for whales, and then realizing there's so much more to be said.
Drew Barrymore: I love collective experiences and I think it's very good to make films that are personal to you, and you know what they are, but I think it's for certain types of people, and you know the people that you're making it for. There aren't a lot of films that you got to make that are very diverse and for a large group of people. We all want to be a part of something that makes us believe that good things happen in the world. And that people actually put aside their agendas and came together on something that was really extraordinary. The fact that there is levity to the really weighty, cool, important message that's in this movie makes it not medicine. It's just a beautiful story and incredible things happen. And because it's true, we know that it happened, it gives us that hope that we need in life. I need this kind of hope in life. I need movies like this.
To see what they had to say about staying warm and standing up for a cause, just keep reading.
Were you prepared for how cold it is up here?
JK: It was so deceiving when we arrived because it wasn't that cold. The first time I came up, it was like 50 degrees. And I remember thinking, "Everybody on the production is insane. They were like 'It gets so cold!'" And then coming from LA, you're packing light sweaters. And then days like this hit, and you're like, "Does anyone have a Caribou carcass that I can throw on myself right now?"
What was it like to be on the other side of the industry, playing a member of the press?
JK: It was actually one of the coolest parts about taking this role, is to see the process that the press goes through in a huge story, in a media frenzy. It was really, really inspiring to see the footage, because my character's sort of an amalgam of a couple of people, so it's not one person I could talk to. So my whole angle of doing research was the media itself and how much attention was placed on it. There is an extreme power in the knowledge that a certain amount of focus can make a huge, huge difference. And that these whales are representative of such bigger things in this movie, and they were in real life. To me, it was that dichotomy of someone who wanted to break a really good story for personal gain, which is totally part of this, and learning later that the attention that's being brought to the story is having such an effect, not only on the world as a whole, but on certain people.
What advice would you give to someone who wanted to fight for a cause?
DB: The same thing that the woman I'm playing did. What I totally believe in is: if it takes staying up 23, 24 hours in a day, do it. If it takes researching until you get to the core of your argument, or your passion, or your fight, find it. Do it. Nothing comes from just passion alone, it comes from this incredible diligence. And I think you can change things, you can have an effect, you can pull off the impossible, if you really work at something. I love that about my character. I love that she is inexhaustible. And it's also fun to play someone who is a bit righteous and stubborn. She's almost humorously petty in a way, because she just has to do what she needs to do.
Photos courtesy of Universal