Drive Movie Review Starring Ryan Gosling
Drive: A White Knuckle Thrill Ride
In Drive, Ryan Gosling plays a man whose exceptional skill at driving makes him the perfect stunt man, and, more lucratively, an ideal chauffeur for crime scene getaways. He doesn't commit them, he just gets other perps away from them — no more, no less. That desire to keep things simple quickly dissolves after he participates in a heist that goes wrong, and thus begins an intense race for his life that makes your stomach twist and your heart pound.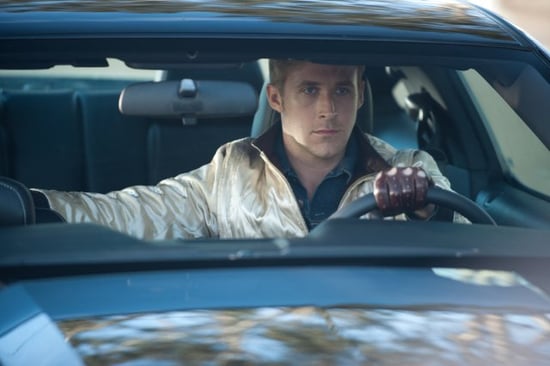 The driver (as Gosling's nameless character is known) develops feelings for the literal girl next door, Irene (Carey Mulligan), a young mother and wife who is waiting for her husband to finish his prison sentence. The driver's attachment to her is what gets him involved in the situation that puts him in danger, and it provides a surprisingly emotional angle to a movie that could have otherwise been a simple bloodbath with an emphasis on fast cars. To find out why I was riveted by Drive, just keep reading.
Director Nicolas Winding Refn creates an environment that's consistently intense with the help of details like a superbly atmospheric soundtrack. But the success of the film is really due to its leading man. As a stoic but simmering protagonist, Gosling has many scenes that only call for him to brood heavily, but it's an even, strong performance. When he's driving, the determination in Gosling's eyes is powerful; he's careful and methodical, even when it's not a high-speed car chase. You feel reassured with his character at the wheel — until you remember what's at stake. While the driver is so monosyllabic that the character feels oversimplified at times, he breaks out of it with flashes of vulnerability that resonate with the audience's emotions.
Though it's Mulligan's character, Irene, that brings out the driver's tender side, the actress feels miscast in the role. Scenes of her interacting with her young son feel forced and unnatural, and Mulligan seems to be too bright eyed to believably have ever dealt with the agony of having her spouse in prison. Still, her chemistry with Gosling pays off in one of the film's most memorable scenes.
Drive is punctuated by brutal violence, and there's no creativity wasted in these scenes — each death seems to be more inventive and savage than the last. Thankfully, they're relatively brief and don't take away from the overall enjoyment of the movie.
Remarkably, many of the movie's best scenes are of Gosling driving. The intensity of the car scenes seem to parallel the driver's state of mind, and for an action that many of us see as prosaic, the time in the vehicle is always enthralling. It's a credit to Refn and brilliantly simple. The course of Drive is a rough one, and though it may leave you exhausted by the time you get to the destination, the film is so well done and stylish that you're glad you rode along.
Photos courtesy of Film District