Dumb and Dumber Sequel News
4 Concerns About the Dumb and Dumber Sequel
Although Dumb and Dumber is one of my all-time favorite movies, the news that a Dumb and Dumber sequel is moving forward doesn't make me happy; it just makes me cringe. Writers have been hired for the script of the follow-up to the '90s comedy starring Jim Carrey and Jeff Daniels, though neither of them have officially committed to it yet. I won't worry too much until the actors sign on, but I still have some concerns.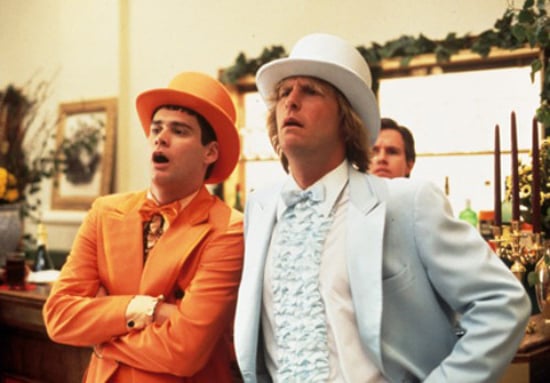 It's been too long since the original. Carrey and Daniels were in their 30s when they played Harry and Lloyd in the 1994 film, but Carrey is 49 and Daniels is 55 now. While I'm positive that they'd still have great comedic chemistry, seeing two men in their 50s acting that stupid may not be so funny anymore — it may just be sad.
The Farrelly brothers have lost their touch. Dumb and Dumber was the first film by the Farrelly brothers, and arguably their best. They were at the top of their game in the '90s with other hits like There's Something About Mary, but their last few films like Hall Pass and The Heartbreak Kid come nowhere near replicating the quality of their earlier work.
They already tried to make another movie, and it didn't work. I know that Dumb and Dumberer: When Harry Met Lloyd is technically a prequel, but filmmakers tried to get lightning to strike twice with their installment about a young Harry and Lloyd, and it didn't happen. It wasn't as funny or good (partially due to the fact that Carrey and Daniels didn't appear at all), so I don't have a lot of faith that future movies will do

justice

to the franchise.
A bad sequel could detract from the enjoyment of the first movie. Can the sequel top bits like the "soup du jour" or "Samsonite" jokes? Can it even hope to come close? Bottom line: I don't want a subpar film sullying the good name of the hilarious original.