Ed Helms Interview About The Office With Paul Lieberstein
The Office's Ed Helms and Paul Lieberstein Talk Josh Groban and Spill Details From the Halloween Episode
The Office returned for its latest season last week with a few changes, including Andy Bernard (Ed Helms) taking over the managerial position vacated by Michael Scott (Steve Carell). Helms joined Paul Lieberstein, who writes for the show in addition to playing human resources manager Toby Flenderson, to talk with reporters about why Andy was the right man for the job. The pair also filled us in on how Andy will deal with Dunder Mifflin's intimidating new CEO Robert California (James Spader), his on-again, off-again girlfriend Erin (Ellie Kemper), and his soon-to-debut brother, who will be played by guest star Josh Groban.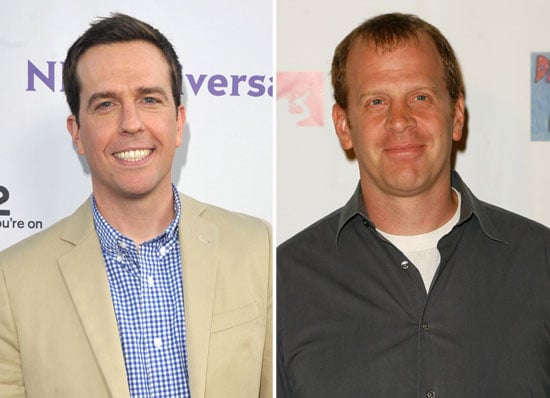 Why did you decide that Andy should be the new manager?
Paul Lieberstein: Well, there are a lot of aspects to the Andy Bernard character to make him extremely suited to manager. One, I think, it's that he cares about people more than he does about the product. Of course, he wants the place to run successfully. Andy is really caring and empathetic. Any little problem that anybody's having, he would feel very deeply, which makes him very suited to be a comic lead in the show. And his stories are a generator. One of the things we're most delighted about is how Andy manages upward — how both scared he is and courageous he is at the very same time when dealing with Robert California.
To find out what else Helms and Lieberstein had to say about the new season of The Office just read more.
What is it like to work with James Spader?
Ed Helms: James Spader has played a lot of very creepy and odd characters throughout his long and wonderful career. James Spader the man could not be more different from those guys. He's a wonderful sort of benevolent and cheerful guy. And so that is a fantastic energy to have on set. And it's wonderful. It's a kind of fun new energy for us all to respond to. Now his character of course, Robert California, is different than that. Robert California is a kind of aggressively confident person who seems to take a lot of pleasure in exerting his power and that is a really crazy energy because it's so new to Dunder Mifflin and it's not something that Andy Bernard is particularly well equipped to deal with and that is exactly why it is so fun.
Given Andy and Dwight's checkered past, what are Andy's plans with Dwight now that he's manager?
EH: Well, let's just say the checkered past carries over to a checkered present. Dwight is someone who responds very well to a firm hand of leadership, which Andy is still sort of searching for a little bit. But I'm really excited that in that first episode we started to just see the very first inklings of a backbone in Andy. And that I'm really excited about because it sort of makes Andy's leadership more plausible in a way and also kind of shows you a lot of where Andy still has to go and where he has to travel. Dwight provides a constant friction for that.
Will Andy and Erin's relationship develop this season?
EH: They're a pretty odd pair because they have very strong emotions and very poor communication skills. There's always been something kind of charming about watching them try to connect and try to communicate. Of course, now with Andy's new boss position, there's a power dynamic that comes into play, which just makes all of that tension and awkwardness that much more difficult. And things do get tricky, especially around Halloween.
Can you guys tell us anything about the Halloween episode?
PL: Yeah, we did a lot of costumes with Rainn because he had a series of flashbacks to about six different Halloweens.
EH: It's a really fun one to shoot just because the office is completely decorated to the hilt and I think we all get in that Halloween mindset. But as far as the story goes, I don't know what I can say other than the fact that there is definitely some tension brewing with Erin and Andy in there. Her Halloween costume is just preposterously adorable this year, so it just makes it that much weirder.
Could you talk about Josh Groban's guest appearance on the show?
PL: It started when we were casting Andy's brother. Mindy Kaling thought of Josh and it seemed like a natural click. And he was excited and he wanted to act and then I'll let Ed talk about what it's like to work with him because I wasn't on set.
EH: We all know Josh is an amazing singer and then I saw him in Crazy, Stupid, Love and thought he was great in that. And so I was not at all surprised that he was really great and hilarious to work with as an actor too. The choice of Josh is kind of a fun teaser because obviously he is musical and we all know that Andy has a certain penchant for music. Josh's appearance is part of a really exciting episode for me and for Andy because it's really where we learn a lot about Andy and not all of it's good and some of it's sort of poignant. But there, of course, is some fun music that gets mixed in there too.
Will there be a rivalry between Andy and his brother?
EH: I'll just say that there is some rivalry, but it takes a compelling turn that I think is unexpected. The source of the rivalry may not be what you expect. Of course, Josh is a great singer and that wasn't lost on our writers. But I'm excited to sort of show the fans kind of where and how Josh's character fits into Andy's life and also what it means for who Andy is. And it's not all good. You can see an aspect of Andy exaggerated in Josh, which is a guy who's even more naive and socially sweeter if you can believe it. So it's interesting to see the two of them together.
The documentary crew has been with the Dunder Mifflin offices for so long — what will the documentary be about in the end?
PL: That's a very interesting question and I'm not going to tell you because I think that'll be a very fun reveal. But it might not be about what you think.