Elf on the Shelf Wrecking Ball Meme
Even the Elf on the Shelf Is Into "Wrecking Ball"
Don't worry, the Elf on the Shelf keeps his clothes on for his Miley Cyrus moment. As people take to social media for their clever Elf on a Shelf photos, the one that's really making the rounds is the elf's hilarious "Wrecking Ball" pose, which feels only appropriate in the wake of so many other Miley parodies. Meanwhile, a Mean Girls/The Hobbit mashup is seriously fetch, and a new Home Alone trailer gives us the real story. See all that and more with this week's funniest photos and videos.
The Elf on the Shelf Meets
Miley Cyrus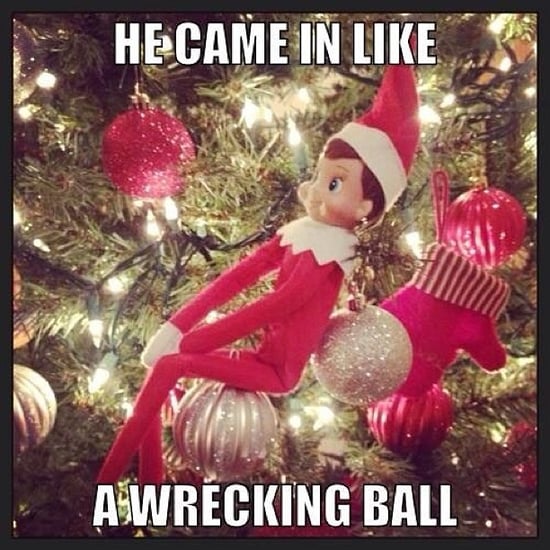 This on-point Elf on the Shelf "Wrecking Ball" meme has been making its way around the Internet, because obviously.
Another Awesome Mean Girls Mashup
The Hobbit plus Mean Girls gives us "Mean Elves," a magical combination of The Plastics and the Middle Earth clique. Bonus points for a hilarious cameo at the end!
An Honest Home Alone Trailer
The latest in ScreenJunkies's Honest Trailers series shows us the classic Christmas movie Home Alone in a whole new light. Is 8-year-old Kevin McCallister actually a sociopath?
For more funny videos and pictures, just keep reading.
Catching Fire According to the Elderly
Catching Fire is the hot topic for the latest "Elders React" episode. In it, the elderly watch the film's trailer while offering priceless commentary to the tune of: "That one was wearing a Lady Gaga costume."
Benedict Cumberbatch

Gets Seductive

During an appearance on Jimmy Kimmel Live, Benedict Cumberbatch gave a dramatic reading of lyrics by fellow show guest R. Kelly, offering a priceless wink at the end.
Some Serious Movember Dedication

Whoa. Jonathan Burnside really committed to Movember, growing not just a mustache for a cause, but an entire cat portrait.
"California Girls" Gets Dramatic
Comedian Eliot Glazer brought his musical talents to a dramatic version of Katy Perry's "California Girls."