Elizabeth Banks on The Hunger Games and Harry Potter
Elizabeth Banks Talks The Hunger Games and Says Harry Potter Is "Scary as Sh*t"
I got the chance to visit the set of What to Expect When You're Expecting last year, where I chatted with Elizabeth Banks about fake baby bumps, motherhood, and the star-studded comedy. Naturally, the conversation also turned to Banks's other big upcoming movie, The Hunger Games. Banks discussed how she feels about the dark subject matter now that she's a parent herself, compared the film to the likes of Harry Potter, and talked about how she got into the role of Effie.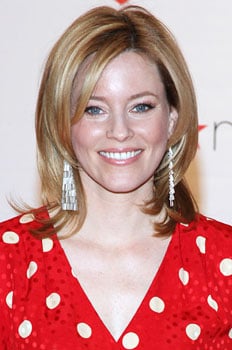 As a parent, did you have any reservations about The Hunger Games's dark subject matter?
EB: The movie is going to be PG-13, and I think that's about right. My nephew's 11, and he read it and loves it. The book has adult themes, for sure. Gary Ross, the director, and Suzanne Collins [who wrote the novels] did a great job patrolling what happens visually in the movie, what we can show and what we can't show. But I remember taking my 6-year-old niece to a Harry Potter movie with those dark shadow things that were scary as sh*t, and the guy doesn't even have a f*cking nose. That's like nightmare stuff, in my opinion. This is a lot of hand-to-hand combat, but it's nothing you wouldn't see on a video game or an episode of CSI. We don't have guns.
What was it like making the transition from The Hunger Games to What to Expect When You're Expecting?
EB: They're just so different, it's literally night and day. I don't have the same voice, I don't have the same hair, I don't have the same anything. Literally nothing, it's completely and utterly opposite. The good thing about this is that it's a role much closer to myself, so it's easier.
What helps you get into character?
EB: Well what's great about both of these characters, Effie Trinket in The Hunger Games, and Wendy, is that there's so much external stuff to build the character with. Effie has the great wigs and the crazy clothes, and the accent, and all that. That's all something that really helps feed you. And this character has the boobs and the bump and the back pain, and the shoes that don't fit, and all of those things that really feed you in the moment, which is great. It's a lot easier than having to come up with a bunch of emotional sh*t that you have to deal with from internally. They're nice characters that you build from the outside in, instead of from the inside out.