Emily Owens MD TCA Panel
4 Things We Learned About Emily Owens, M.D.
The CW is adding another series revolving around a doctor to the Fall lineup, but Emily Owens, M.D. is a long way away from Hart of Dixie. The show stars Mamie Gummer as a recent med-student grad who is ready for a fresh start at a new hospital. Her dreams of starting over are dashed when she sees her high school nemesis in the locker room, and soon she's retreating back to her geeky teen years. Gummer was joined by her cast of fellow doctors at the Summer TCA to talk about medical speak, landing roles on the show, and more. Here's what we learned: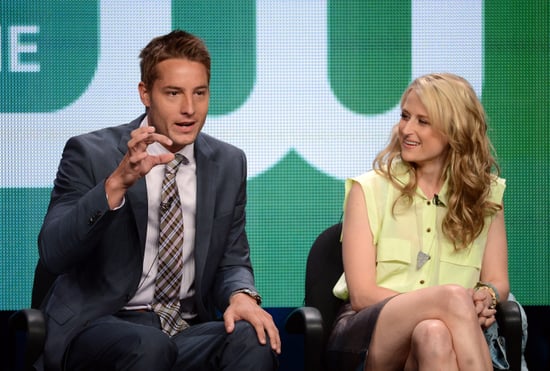 The show will be both funny and dramatic: The series is reminiscent of both Scrubs and Grey's Anatomy, but it won't be pigeon-holed as either a comedy or drama. The pilot has some funny moments (especially thanks to Emily's inner monologue and ability to get herself into awkward situations), but executive producer Jennie Snyder made it clear that the writers are "going for it, medically" and that the procedural will include plenty of serious moments, especially when it comes to the patients.
Justin Hartley scored the role on his glasses alone. You may recognize Hartley as Smallville's Green Arrow, but Hartley couldn't use superpowers to land a role on The CW's new series. In fact, he was initially passed over for the part of Will — until his agent suggested that he audition again with glasses. Hartley landed the part and now wears a nonprescription pair for his role as Emily's crush.
There will be more than one love triangle. It's pretty obvious in the pilot that Emily has the hots for Will, and it doesn't take a rocket scientist to figure out that sweet chief resident Micah (Michael Rady) will also come into the picture. But there's also a second love triangle between Emily, Will, and mean-girl

Cassandra

(Aja Naomi King), which should make the series even juicier.
Using doctor jargon is as difficult as it seems. The cast discussed how hard it is to adapt to using medical terms on a daily basis. Gummer said, "It was hard because it's like speaking Trekkie or something. These sounds mean nothing to me." Speaking about the career of doctors in general, Rady added, "It's quite a dizzying career that I'm just flabbergasted by."