Emmy Awards Winners Full List From 2010
Announcing the 2010 Emmy Winners!
This year's Emmys have come to a close, and I'm still surprised by some of the unexpected winners. The voters gave lots of love to new shows, with Modern Family winning the big award for outstanding comedy series (and a win for Eric Stonestreet!). It was also a night for repeat honorees, with the cast of Mad Men and Bryan Cranston both taking the stage for a third time.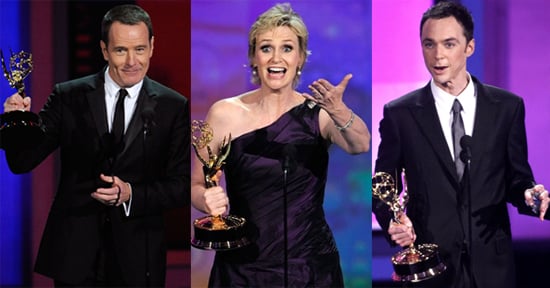 Jimmy Fallon kicked things off with a fun musical number (watch it again here), and the night had several laugh-out-loud moments (George Clooney's Modern Family video cameo was a personal fave). I was in the press room throughout the night, so don't forget to check out what the stars had to say about winning, along with our Emmys coverage from across the Sugar network. Then stop by later as I recap all of the major highlights right here on Buzz. But first onto the lucky honorees. For the full list of 2010 Emmy winners, just read more.
COMEDY SERIES
Modern Family
DRAMA SERIES
Mad Men
MINISERIES
The Pacific
ACTOR IN A COMEDY
Jim Parsons, The Big Bang Theory
ACTOR IN A DRAMA
Bryan Cranston, Breaking Bad
ACTRESS IN A COMEDY
Edie Falco, Nurse Jackie
ACTRESS IN A DRAMA
Kyra Sedgwick, The Closer
MADE FOR TELEVISION MOVIE
Temple Grandin
REALITY COMPETITION PROGRAM
Top Chef
ACTOR IN A MINISERIES OR MOVIE
Al Pacino, You Don't Know Jack
ACTRESS IN A MINISERIES OR MOVIE
Claire Danes, Temple Grandin
SUPPORTING ACTOR IN A COMEDY
Eric Stonestreet, Modern Family
SUPPORTING ACTOR IN A DRAMA
Aaron Paul, Breaking Bad
SUPPORTING ACTOR IN A MINISERIES OR MOVIE
David Strathairn, Temple Grandin
SUPPORTING ACTRESS IN A COMEDY
Jane Lynch, Glee
SUPPORTING ACTRESS IN A DRAMA
Archie Panjabi, The Good Wife
SUPPORTING ACTRESS IN A MINISERIES OR MOVIE
Julia Ormond, Temple Grandin
WRITING FOR A COMEDY
Modern Family
WRITING FOR A DRAMA
Mad Men
WRITING FOR A VARIETY, MUSICAL, OR COMEDY SERIES
63rd Annual Tony Awards
WRITING FOR A MINISERIES, MOVIE, OR DRAMATIC SPECIAL
You Don't Know Jack
DIRECTING FOR A COMEDY SERIES
Ryan Murphy, Glee
DIRECTING FOR A MINISERIES, MOVIE, OR DRAMATIC SPECIAL
Mick Jackson, Temple Grandin
DIRECTING FOR A VARIETY, MUSIC, OR COMEDY SERIES
Bucky Gunts, Vancouver 2010 Winter Games Opening Ceremony
ORIGINAL MUSIC AND LYRICS
Randy Newman, Monk
VARIETY, MUSIC, OR COMEDY SERIES
The Daily Show
DIRECTING FOR A DRAMA SERIES
Steve Shill, Dexter


LIST OF WINNERS IN THE CREATIVE ARTS CATEGORIES
GUEST ACTOR IN A COMEDY SERIES
Neil Patrick Harris, Glee
GUEST ACTOR IN A DRAMA SERIES
John Lithgow, Dexter
GUEST ACTRESS IN A COMEDY SERIES
Betty White, Saturday Night Live
GUEST ACTRESS IN A DRAMA SERIES
Ann-Margret, Law & Order: SVU
ANIMATED PROGRAM (FOR PROGRAMMING ONE HOUR OR MORE)
Disney Prep & Landing
ANIMATED PROGRAM (FOR PROGRAMMING LESS THAN ONE HOUR)
Robot Chicken
ART DIRECTION FOR A SINGLE-CAMERA SERIES
The Tudors
ART DIRECTION FOR A MINISERIES OR MOVIE
The Pacific
ART DIRECTION FOR VARIETY, MUSIC, OR NONFICTION PROGRAMMING
82nd Annual Academy Awards
CASTING FOR A COMEDY SERIES
Modern Family
CASTING FOR A DRAMA SERIES
Mad Men
CASTING FOR A MINISERIES, MOVIE, OR SPECIAL
The Pacific
CHOREOGRAPHY
So You Think You Can Dance
CINEMATOGRAPHY FOR A HALF-HOUR SERIES
Weeds
CINEMATOGRAPHY FOR A ONE-HOUR SERIES
CSI
CINEMATOGRAPHY FOR A MINISERIES OR MOVIE
Return to Cranford (Masterpiece)
CINEMATOGRAPHY FOR NONFICTION
Life
CINEMATOGRAPHY FOR REALITY PROGRAMMING
Survivor
COMMERCIAL
Old Spice Body Wash
COSTUMES FOR A SERIES
The Tudors
COSTUMES FOR A MINISERIES, MOVIE, OR SPECIAL
Return to Cranford (Masterpiece)
COSTUMES FOR A VARIETY/MUSIC PROGRAM OR A SPECIAL
Jimmy Kimmel Live
DIRECTING FOR A VARIETY, MUSIC OR COMEDY SPECIAL
Saturday Night Live
DIRECTING FOR NONFICTION PROGRAMMING
My Lai
MAIN TITLE DESIGN
Bored to Death
MAKEUP FOR A SERIES, MINISERIES, MOVIE, OR A SPECIAL (PROSTHETIC)
The Pacific
MAKEUP FOR A SINGLE CAMERA SERIES (NON-PROSTHETIC)
Grey's Anatomy
MAKEUP FOR A MULTI-CAMERA SERIES OR SPECIAL (NON-PROSTHETIC)
Saturday Night Live
MAKEUP FOR A MINISERIES OR MOVIE (NON-PROSTHETIC)
The Pacific
MUSIC DIRECTION
Vancouver 2010 Olympic Winter Games Opening Ceremony
MUSIC COMPOSITION FOR A SERIES (ORIGINAL DRAMATIC SCORE)
24
MUSIC COMPOSITION FOR A MINISERIES, MOVIE, OR A SPECIAL
Temple Grandin
ORIGINAL MAIN TITLE THEME MUSIC
Bored to Death
PICTURE EDITING FOR A DRAMA SERIES (SINGLE-CAMERA)
Lost
PICTURE EDITING FOR A COMEDY SERIES (SINGLE OR MULTI-CAMERA)
Modern Family
PICTURE EDITING FOR A MINISERIES OR MOVIE (SINGLE-CAMERA)
Late Night With Jimmy Fallon
PICTURE EDITING FOR A SPECIAL (SINGLE OR MULTI-CAMERA)
The 25th Anniversary of Rock and Roll Hall of Fame Concert
PICTURE EDITING FOR NONFICTION PROGRAMMING
By the People: The Election of Barack Obama
PICTURE EDITING FOR REALITY PROGRAMMING
Intervention
HAIRSTYLING FOR A SINGLE-CAMERA SERIES
Mad Men
HAIRSTYLING FOR A MULTI-CAMERA SERIES OR SPECIAL
Dancing With the Stars
HAIRSTYLING FOR A MINISERIES OR A MOVIE
Emma (Masterpiece)
CREATIVE ACHIEVEMENT IN INTERACTIVE MEDIA — NONFICTION
The Jimmy Fallon Digital Experience
CREATIVE ACHIEVEMENT IN INTERACTIVE MEDIA — FICTION
StarWarsUncut.com
LIGHTING DIRECTION (ELECTRONIC, MULTI-CAMERA) FOR VARIETY, MUSIC, OR COMEDY PROGRAMMING
Vancouver 2010 Olympic Winter Games Opening Ceremony
VARIETY, MUSIC, OR COMEDY SPECIAL
The Kennedy Center Honors
SPECIAL CLASS PROGRAMS
63rd Annual Tony Awards
CHILDREN'S PROGRAM
Wizards of Waverly Place: The Movie
CHILDRENS' NONFICTION PROGRAM
The Face of Courage: Kids Living With Cancer, Nick News With Linda Ellerbee
NONFICTION SPECIAL
82nd Annual Academy Awards
NONFICTION SERIES
The National Parks: America's Best Idea
REALITY PROGRAM
Jamie Oliver's Food Revolution
EXCEPTIONAL MERIT IN NONFICTION FILMMAKING
Nerakhoon (The Betrayal)
WRITING FOR NONFICTION PROGRAMMING
The Last Refuge
SOUND EDITING FOR A SERIES
24
SOUND EDITING FOR A MINISERIES, MOVIE, OR SPECIAL
The Pacific
SOUND EDITING FOR NONFICTION PROGRAMMING (SINGLE OR MULTI-CAMERA)
America: The Story of Us
SOUND MIXING FOR A COMEDY OR DRAMA SERIES (ONE HOUR)
Glee
SOUND MIXING FOR A MINISERIES OR MOVIE
The Pacific
SOUND MIXING FOR A COMEDY OR DRAMA SERIES (HALF-HOUR AND ANIMATION)
Entourage
SOUND MIXING FOR A VARIETY OR MUSIC SERIES OR A SPECIAL
The 25th Anniversary Rock and Roll Hall of Fame Concert
SOUND MIXING FOR NONFICTION PROGRAMMING (SINGLE OR MULTI-CAMERA)
Deadliest Catch
SPECIAL VISUAL EFFECTS FOR A SERIES
CSI
SPECIAL VISUAL EFFECTS FOR A MINISERIES, MOVIE, OR SPECIAL
The Pacific
STUNT COORDINATION
FlashForward
TECHNICAL DIRECTION, CAMERAWORK, VIDEO CONTROL FOR A SERIES
Dancing With the Stars
TECHNICAL DIRECTION, CAMERAWORK, VIDEO CONTROL FOR A MINISERIES, MOVIE, OR SPECIAL
Vancouver 2010 Olympic Winter Games Opening Ceremony
VOICE-OVER PERFORMANCE
The Simpsons
WRITING FOR A VARIETY, MUSIC, OR COMEDY SPECIAL
The Colbert Report