Emmy Nomination Reactions For 2011 Comedy Categories
Emmy Nomination Snap Judgments: Comedy
The nominations for the 2011 Primetime Emmys are out, and after soaking up the nods (and already imagining a very stylish red carpet), we're ready to talk about our snap judgments. Here are the shocks and pleasant surprises we felt while hearing this morning's announcement for the comedy categories — stay tuned for our thoughts about the drama nods.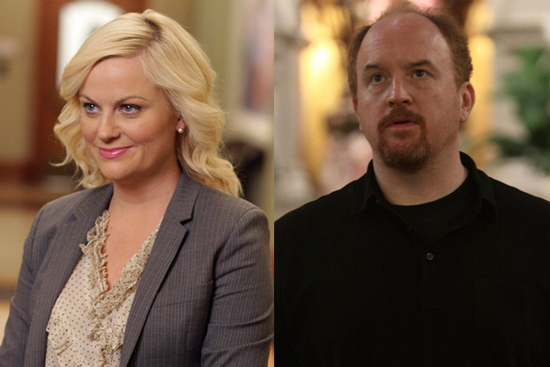 I'm ecstatic that Parks and Recreation got its first nod for best comedy series. The NBC show is utterly deserving of the honor, and the fact that the show on the whole, plus star Amy Poehler, got recognized allows me to ignore the fact that other cast members didn't get nominations.
Where did Louis C.K. come from? I've been a fan of the comedian for a few years, but never dreamed that his subversive humor would land him an Emmy nomination. It's especially cool that he broke into the category of lead actor in a comedy series, because it's gotten pretty predictable and usually sticks to the stars of long-running network sitcoms. If his show Louie needed any sort of endorsement, here it is.
To find out my other comedy snap judgments, just
.
The Big Bang Theory fans must be psyched today — the series snagged nominations for first-timer Johnny Galecki, on top of a nod for best comedy series. Plus, Jim Parsons (last year's winner for best supporting actor) is also up, albeit against his costar Galecki. Who do you think is more deserving?
I have mixed feelings about the best supporting actor in a comedy category. While it's nice that Ed

O'Neill

is up after last year's snub, now that category is dominated with Modern Family folks. I love the show, but there are so many other others who had stand out performances this year: Jason Segel, Danny Pudi, and Tracy Morgan come to mind, along with Neil Patrick Harris, who wasn't nominated in the category for the first time in years.
I'm delighted to see Late Night With

Jimmy Fallon

in the running for outstanding variety, music, or comedy series — the show has become a strong presence on the late night circuit, a pop culture treasury, and just an all-around fun show thanks to the endearing and always-upbeat host. Kudos!
Yay for Steve Carell getting one last chance at a win for The Office. If there were ever a time that he could finally score a trophy, this is it.
And now, a message to Courteney Cox. Dear Courteney, we just want you to know that we love you on Cougar Town, even if you don't have a nomination to show for it. You'll get there. Love, BuzzSugar.
What are your thoughts on the Emmy nominations in the comedy arena? Anything you were shocked, angered, or pleased about?